First Oasis Restaurant


Located in Brooklyn, First Oasis Restaurant offers New Yorkers some of the best Middle Eastern cuisine in the area, as well as a laid back, comfortable space to call their own for special occasions. Ideal for birthday parties, graduation parties, family reunions, rehearsal dinners or other casual get togethers, First Oasis provides the warm ambience your guests would love to escape to.
First Oasis Restaurant's large dining area, full bar and outdoor patio can help to create the event you were looking for. Its convenient location on 4th Avenue will be an easy location for most any guest to arrive to, and once there – your guests will surely be delighted by the mouthwatering fare and the wide selections of wines.
Call them today to make your large party reservation today.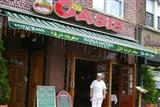 718-238-4505

718-238-4506
Stats
10,419 views since Jan, 2011
Appears In
Share