Home
»
Honeymoon Guide
» Honeymoon Hot Trends
Honeymoon Hot Trends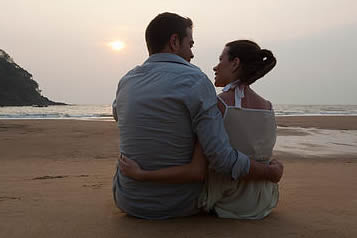 Celebrate your honeymoon in the best way possible! Here are today's hottest honeymoon trends that you and your better half may wish to partake in!

Get in the Water! Cruises
Cruises are a wonderful way to spend your honeymoon. You can do what you please; eat what want you want; and drink what you desire without having to worry about taking out your wallet each time. And when we're talking cruises, we're not just talking about the ones with the "Guy with the Most Hair" contests. There are a ton of luxurious cruises that go to unique, romantic destinations. Why not get satisfy your learning bug as well as your romantic bug by taking a cruise on the Nile River while learning about Egypt? Or, perhaps take a 10-day trip around the glorious Turks and Caicos. You could even take a National Geographic sponsored cruise tour of the Galapagos Islands where you'll have the chance to snorkel with penguins and observe giant tortoises.

Get a Thrill! Adventure Honeymoons
Maybe sitting on a beach all day isn't exactly your cup of tea. Perhaps you'd like to start your happily ever after with your new wife or husband by taking some thrills of a lifetime, and testing your physical limits. Try hiking the mountains of Costa Rica, four-wheeling in Argentina, learning to surf in Hawaii, taking a helicopter ride over the glaciers in Alaska, or taking a walk on the wild side on a safari in Africa.

Get a Room! Private Villas or Bungalows
If you have the budget, getting a private villa or bungalow at your honeymoon destination is the perfect place to begin "playing house" with your new partner. Whether it's on a floating bungalow over the waters in the Caribbean or in Southeast Asia, or a private countryside villa overlooking the vineyards, you will be assured privacy, romance, and peace. You'll see that the money you spend on these private quarters will be worth every penny.

Get Around the World! Visit More Than One Country
Hopping from one country to the next on your honeymoon may be the perfect way to celebrate your new union. This may be especially appealing to couples who don't to travel abroad much. Experience various cultures, foods, drinks, sites and activities all in one trip. A European honeymoon makes it easy to travel from country to country on cozy trains or via rental cars. Get even further out there by spending some time in the paradise of the Goa beaches in India, then experience the hustle and bustle and see how the old meets the new in up and coming Mumbai (Bombay). You could even take the short trip from Italy to Greece on one amazing vacation.

Get a Grip! Sporty Honeymoons
Maybe you and your new spouse have the most fun while playing games. Why not do what you know you both love to do by partaking in a golfing adventure in its home of Scotland? Take a biking tour across the glorious glaciers in Alaska, the untouched countryside in England, or the beautiful wine country in California.