Home
»
Articles, Guides, and Tips
Posted by
Amanda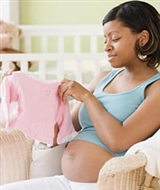 Even if you have decided not to go with any theme for the baby shower you are hosting, you will still use some type of theme even if you only use all blue or all pink for the decorations. You will also still use all kinds of baby decorations, so it is still basically a theme.

Using a theme adds a unique personality to the party that would otherwise be ignored. Themes can center on the gender of the baby using specific colors, can pamper the mom to be, or can be a nursery rhyme theme. The choices are endless when you begin to think of the various decorations available for a baby shower.

What does it take to create a theme? There are several things to consider as you start planning the baby shower. Do you want a traditional baby shower or a more modern one, which can include the dad to be and other males?

A woman only shower of course will be more feminine affair or one in which the ladies can let loose. In most cases, if only women are attending the theme could be spa theme, tea party, or even a makeover party. If men are attending these themes will not be your best choice for a themed baby shower.

Once you have made a decision as to the type of the baby shower you wish to host and if it will be a women only or couples shower you can move on to the next step.

For women only you can have all kinds of themes including pampering the mom-to-be with a princess theme or if you would prefer to center on the baby then you could choose a nursery rhyme such as Twinkle Twinkle Little Star, Little Bo Peep, or Little Boy Blue. Nursery rhyme themes go great for both couples and women only. Along with nursery rhymes, you may wish to choose your favorite childhood book, favorite cartoon you remember as a child, a game you enjoyed such as Hop Scotch, or a nursery theme decorated like a baby's room.

Just remember whatever theme you choose you will need to find all the decorations that go along with the theme. If you choose Little Boy Blue, you will want haystacks, horns, sheep, cows, and other items from the rhyme. Some themes may present you all kinds of problems when it comes to finding the decorations unless you are good at creating your own decorations.

If you want a more traditional theme without all the fancy stuff, you can choose a specific color such as pink for a girl, blue for a boy, or yellow/green if the sex is unknown. A traditional theme is the giving of the gifts and providing the mom-to-be with the experience of other mothers.

For those that do not have children and have never gone through the birthing process, there are still all kinds of things they can contribute. Funny stories about their brothers, sisters, or even their babysitting experiences.

When you do make your decision and are out purchasing the items you need, it is always in your best interest to buy all items at the same time. The main reason this is true, is that you may go back next week and the Winnie the Pooh plates, napkins, or other decorations you wanted are all gone. Yes, this does happen and then you will be absent the accessories you need for your baby shower. The same goes for the invitation and the thank you cards. You want these to look similar or at least have the same image, if you purchase the invitations now and wait until the last minute to get the thank you cards, you may not find ones that match.

When you do buy the invitation and thank you cards, place one of each back for the mom-to-be. This is an added bonus for her to place in her baby book. The next thing on the list is to find the decorations that match your theme. If you are going with Winnie the Pooh, a specific color, or other theme, you will want streamers, balloons, tablecloths, and centerpieces to be of the same theme.

Enjoy planning the baby shower and showering the mom to be with all kinds of fond memories.
More Articles by Amanda
«-- Return to Article Index