Home
»
Articles, Guides, and Tips
Posted by
Amanda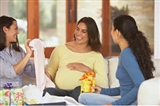 If you are planning a baby shower you want the even to be one that will remembered by the guest of honor as well as all those that attend. This event is a special day for the mom to be, to share a special moment in her life with her family and friends', making it special is all that matters. Finding the perfect theme can be an exhausting endeavor, however with this guide, you should be able to find one that you like or come up with an idea of your own to make the baby shower a memorable one.

There are more than likely thousands of themes that can be used for a baby shower. You have the classics like Baby Girl all pink, Baby Boy all blue, Nursery Shower, Twinkle Twinkle Little Star, Noah's Ark, and Winnie the Pooh, to name a few.

Baby Blue Baby Shower

For this theme everything should be able the boy such as blocks, trucks, cars, and sport items. Nothing dainty or frilly when it comes to the baby boy shower. In most cases, a large meal is planned such as a meat, vegetable, salad, and rolls. Yes, there will be a cake decorated for the baby boy. You can use other colors besides blue, but blue should be the main color with other blues or contrasting colors. Games of course are always played at baby showers. The choice for games is up to the hostess but should be a boy theme or neutral. Gifts for the guests can be such items as note cards, key chains, or other more boyish items. For winners of games you can give away blue candles, video store coupons, or the various toys used for decorating.

Baby Girl Baby Shower

Just the opposite from the Baby Boy baby shower. All this ribbons, lace, and frill. The main color is pink with other shades of pink and purple. Finger foods are awesome such as chicken salad sandwiches. Decorations should be prissy, girly, frilly, and include flowers. The tablecloth should have ruffles and as much as pink as one can stand. Gifts for the guests can be pink candles in white tulle with a pink ribbon, attach a nice prayer for an added bonus. Prizes for the games can include pink hair ribbons, hand lotion, or other frilly pink items.

Nursery Shower

A nursery shower theme allows guests to bring items that the mom to be will need for the nursery. You should talk with the guest of honor and learn if she has a theme for the baby's room. Let the guests know the theme of the baby's room as well as the baby shower theme. This will allow you or another guest to purchase the crib, the chest of drawers, diaper pail (if needed), blankets, teddy bears, baby monitors, and other items you know the mom might need. This theme does not necessarily have a specific color unless the mother has chosen one for the baby's room. The colors should be cool and not bright and promote sleep. Foods should be light and not spicy. Fluffy foods such as divinity or angel food cake would also be great. Gifts for guests should once again be something calming such as chamomile tea. Prizes for games can include eye mask, books, or aromatherapy relaxing candles.

Twinkle, Twinkle Little Star Baby Shower

This is a simple theme for a baby shower. All you need are stars of all shapes and sizes. You can use star confetti on the table, have star shaped cookies, cakes, and even finger sized sandwiches made like stars. Foods can be practically anything but served on plates with stars and drinks served in cups with stars. Gifts or favors for the guests once again can be any type of items with stars, possibly a keepsake box. For prizes, star shaped candles or star shaped candle holders.

Noah's Ark

What do you think of when you think of Noah's Ark? Baby animals on a boat? That is often the sight we envision due to all the baby stuff with the Noah's Ark theme. With that said, you must know what you need to create the Noah's Ark theme. Stuffed animals of all kinds are perfect. You can find animal shaped balloons and all kinds of decorations with Noah's Ark. Food ideas include cookies shaped like animals or foods served on Noah's Ark plates along with cups and napkins. Gifts for the guests can be anything with Noah's Ark such as notebook or a snow globe. Prizes for the games can be stuffed animals.

Winnie the Pooh

Winnie the Pooh is another all time favorite for baby showers just like Noah's Ark. You can easily find all the decorations you need including streamers, balloons, cups, napkins, plates, and more to enhance your theme. Food should be items that Winnie might eat such as things with honey. You can even add a few fruits or vegetables since wherever Winnie is the Rabbit is sure to follow. The cake of course should be shaped like Winnie the Pooh. Favors for the guests can be anything Winnie the Pooh including a honey pot or a Winnie the Pooh book. Prizes can include Pooh calendars, Pooh key chains, etc.

Visit our Party Planning Guide for more information about planning a baby shower.
More Articles by Amanda
«-- Return to Article Index