Home
»
Articles, Guides, and Tips
Posted by
Amanda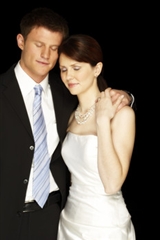 Your wedding reception style depends a lot on your personal style and settings preferences. It's important to match the style of your wedding throughout the entire day and not to mix and match the formality. There are three main types of reception styles: formal, semi formal and informal.

Formal style
A formal wedding typically starts later in the day and guests are seated at a formally set table with complete service of silver and crystal, place cards, menu cards and a centerpiece. The menu includes a several course meal and the music could be chamber or jazz as the guests arrive, and live band or orchestra for dancing.

Semiformal style
This type of reception could be held at any time of the day. It could be a sit-down dinner or a buffet. However, a seat and a table must be assigned for every guest. A live band is an appropriate type of music for this kind of event.

Informal style
An informal style wedding can take place at any time - morning, noon or night. Unlike the above two it doesn't have to be a catered affair, it could be a casual buffet where the guests serve themselves and they may sit at a table of their choice, or seats may be assigned. Limited seating is also appropriate. The music can be a live band, DJ or prerecorded.

More Articles by Amanda
«-- Return to Article Index