Home
»
Articles, Guides, and Tips
Posted by
Amanda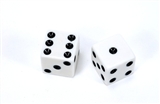 There is a new game that is sweeping the nation that is very popular for women. This game is simple, fun and gets a mom out of the house for a few hours on a night out with her girlfriends. Bunco uses dice, a pencil, a bell and a giant fuzzy dice as a group of twelve women play this game. However, since Bunco is so popular, it can be done on a much larger scale, as a charity fundraiser or as a tournament for a lot of women. You just need to have a place to host that is large enough for everyone, can serve food and drinks for all to enjoy.

The first step in planning a Bunco Bash is to select the date and location. You should have a small committee that will handle all of the details for this party planning so that it goes off without a hitch. Choose a catering hall that has room for a lot of tables. You only need four chairs per table, and a round table is preferred, but you can work with square or rectangular ones. Tables will need to be in multiples of three, since twelve people are required per "set" in each game.

The next step is to plan your menu. Even though women say they are always on a diet – blah blah blah – you need to have some food around. Now, the food can be done in one of two ways, depending on how you are setting up your Bunco bash. When the Bunco bash will be an evening event, like a Friday or a Saturday night, you should probably choose to have an hors d'oeuvres table. If the event starts at 7:00, then everyone should have already eaten dinner and they will only require snacks at the midway point of the tournament. This is an opportune time for a fruit bar, a dessert table, a salad bar or even a bunch of snacks like crackers and cheese and chips and dips. Finger food that is quick and yummy will go over big with a bunch of hungry dice rollers!

When your Bunco bash is set up as a day tournament, then you will need to consider having a full meal throughout the halfway point in your day. Just take in to consideration that if your Bunco bash is to raise money for a charity, you will need to charge extra to cover all of the expenses for food. A meal will raise the price a bit more than snacks would. The meal could be planned at the midway point in the day, to give people a break and to allow them time to mingle with others who might not be in their set of 12 people playing the game. The food could also be set up buffet style, where girls can go through and get some as their own individual games end and they have a few minutes between rounds, anytime during the day. No matter which option you choose for food, a catering hall will be more than willing to work with you on the serving time of the food and how much to keep out during the entire event.

The next "ingredient" you need for your Bunco bash is beverages. Since there is a lot of talking during the game – come on, it's a bunch of women playing – you will need a variety of drinks offered. You can provide theme drinks if your Bunco bash has an overall theme or you could go with whatever season it is. Coffee, tea, lemonade and water are always great no matter what season you are playing in. Other seasonal drinks could include warm apple cider, cranberry punch, egg nog or whatever else you enjoy. Your catering hall might also have a bar service where you can choose to provide a few punch bowl drinks or charge each person in a cash bar setting.

Don't forget the decorations! Bunco bashes look best when you at least have a few coordinating decorations up. The decorations could go along with your theme, such as make everything pink if you are rolling money for breast cancer awareness. You could set up palm trees and provide grass skirts for a luau themed Bunco night. You could also give everyone jelly bracelets and tell them to show up in their favorite 80s outfit for an 80s themed night of Bunco. No theme is off limits.

Every Bunco bash will need prizes at the end. These prizes could be for the top three score getters in your game and then have some more random drawings throughout the night for other prizes. When you are raising money, you could set up a raffle system for different gift baskets that people donate for your cause. Sell raffle tickets and in the half way point of your tournament, you can draw some of the winners out. You could also wait and do all of them at the end of the night or day, when the game is over with.

Make sure everyone gets a trinket of some type to take home so they remember how much fun they had at your Bunco bash, no matter why you planned it in the first place. The trinket could be some dice key chains, a pen with the event name inked on the side or it could be a postcard with the date and time of your next Bunco bash.
More Articles by Amanda
«-- Return to Article Index