Home
»
Articles, Guides, and Tips
Posted by
Amanda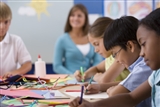 Sometimes it is hard to plan a day away, especially if you and your friends all have small children. But it is important for you to get away and have time to socialize with other women. It is also important to have your creative outlet, where you can work on a project and forget about the stress of your life and everything that may be going on in it. There just aren't enough hours in the week though to be able to see the girls and enjoy crafts…or is there? There sure is. Planning a craft day with all of your girlfriends and family members is easy whether you are doing it for fun or to raise funds for a group you all believe in.

Not everyone is crafty, even though the want to be. Planning an all day craft day is open to anyone who does any sort of craft whether it is scrapbooking, quilting, knitting, card making, stitching, weaving, basket making or whatever else you can think of. Someone who doesn't think they are crafty might not realize that quilting or sewing is definitely a craft and they can do it in the presence of their girlfriends. Having a craft day is also a great way to expose yourself or your friends to a lot of different crafts they might want to take up after seeing someone else do it.

So what exactly is a craft day and how do you begin to plan it? A craft day is an all day event on a Saturday, where a person brings in all the tools and equipment they need in order to work on their craft of choice for the entire day. The day starts early, with breakfast served as the women come in to the facility and begin setting up for their day. Breakfast can be as easy affair with Danishes, donuts, juice and yogurt cups set out and people can grab them as they start to set up their table and begin working. Work with the hall catering staff to determine if you want an in-depth breakfast menu.

Once breakfast is served and people have arrived, they just sit around until lunch time and work on their craft of choice. People are given half of a table – whether it is a round or a rectangular table – so they can spread out their tools and work efficiently. When the women register ahead of time, they can request who they want to share a table with. If no one has a request, then simply seat them with another person who hasn't requested someone.

When it comes to lunch time, then there are a few different options you can go with for feeding everyone. It could be a simple sandwich bar, with different types of lunchmeat and sandwich spreads to go with the bread. A few salads, such as a lettuce salad and a pasta salad compliment the short meal. A cookie tray or a brownie tray round out the meal nicely for the people who have a sweet tooth. The catering hall staff can set out the food in the middle of the day and leave it out for a set time, like a buffet from noon until one. People can take a break and get their lunch whenever they want or are hungry.

After lunch is over, the women go back to working on their chosen craft for the day until dinner is served. To make the afternoon go by faster, you can do raffle drawings or have a mini class on a new or trendy craft that people are enjoying. The class can be optional for people who want a break during the day or you can make it for everyone to stop and have a lesson. There aren't any rules when it comes to what you do during the day, as long as everyone has fun and gets to work on their craft.

Dinner is a more elaborate affair with the girls. By this point, they have had several hours worth of crafting and could use a good break and to get together and chat with some other girls who aren't near your table. The dinner can be buffet style still, but it can have a hot dish and a fancier dessert to round out the craft day. Lasagna and garlic bread, roast beef and mashed potatoes, spaghetti, or baked chicken and mashed potatoes are all great choices to fill up the women after a "hard" day of crafting.

When you are planning raffles or prize drawings during the day, a gift card to a craft store works well. Instead of trying to buy prizes to go with each individual craft, like scrapbooking paper or basket supplies, a gift card allows a person to go and pick out whatever they want from the store. If you don't have a craft store in the area, make it a gift card for something else they would use, such as a gas card or a certificate to a salon or a spa.

This craft day can simply be a gathering of all your friends and family members who don't get to see each other often. They can simply pay per person to cover the expense of the meals and then the hall rental. If you are doing it as a fundraiser, then you set a higher price and cover the bills and then put the rest of the money towards your charity.
More Articles by Amanda
«-- Return to Article Index