Home
»
Articles, Guides, and Tips
Posted by
Amanda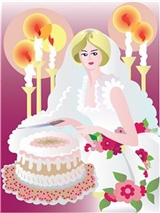 Bridal showers and bachelorette parties are both for the bride to be. They both offer presents and kind words that congratulate the lucky lady on her upcoming day. There are on the other hand, big differences that set the two apart.

A bridal shower is a nice party where practical gifts for the bride and groom are given. Items for the home are a great example. The bachelorette party is a no holds barred all out party fest. Brides get to let loose and that usually involves gifts of the naughty nature and male strippers.

Way back when women would gather at a friend's house and shower the bride with gifts, some practical some naughty. Today, houses are still used as the meeting place and the parties will be all niters at various bars or clubs or the house is used as stripper central. A few even rent catering halls for their parties whether they are the nice or the naughty kind. A catering hall keeps your personal address a secret from those that you may not wish to have your address such as the strippers you hire.

The party can start at a house with gifts that can be used on the honeymoon. These gifts can be sexy lingerie for your soon to be husband. In addition, gag gifts are a great addition to any party where you are celebrating that last day of freedom before the wedding.

Staying at home can also be great because no one has to drive; meaning drinking alcoholic beverages is not a problem. Just make sure you have room for everyone to crash or a designated driver for the ones that will want to go home. In addition, a stripper can be hired to show his moves in the living room instead of in public at a local bar, making an experience a bit more private, which can also be done at a rented catering hall.

Going out to clubs for a bachelorette party is a great idea. Some parties bring strippers in for a surprise lap dance as long as the club says it is ok. Your favorite bar can even be rented out for that special night. Also make sure to have a designated driver, even a limo, for that night so that no one drinks and drives.

The bridesmaid is generally responsible for the bachelorette party so make sure she knows your friends and family. You may even want to have one party for just family and another for friends. This way no one feels awkward if they do not like drinking or gag gifts. Some gifts make people feel uncomfortable so the separate party idea is a good one.

Some couples have conjoined party's right before the big day. It works for some, but not all. Get a DJ and bust a move. The gift part can still be included and you never know when the lingerie will come in handy. Wink, wink. The bride can watch the groom and vice versa and with no strippers to worry about everyone can have a good time.

This is the last party before a bride says, "I do". It is her last single girl night out. It must be special and catered to her tastes. Whether you choose to have drinks, a stripper, a party planner, or a night where you remember her in the old times make sure the party is about her. It has to be something she will like. A bachelorette party will go down in history. Make sure it is a good memory for the bride to be.
More Articles by Amanda
«-- Return to Article Index