Home
»
Articles, Guides, and Tips
Posted by
Amanda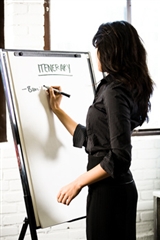 Creating an event budget will not only ensure that you don't spend more than you intend but it will also help you stay organized. Once the budget has been set up, you can begin selecting options for the menu, décor, services, etc. It's not a good idea to start organizing an event without knowing your budget - it makes more sense to establish the budget first and then choose options that fit into that number. You can categorize and track the expense items in the following way:



Estimate venue expenses. In the process of planning, track all rental fees for the event space, amenities, services and other related costs.


Consider décor costs – you'll probably need centerpieces, floral arrangements, and other decorations.


Transportation - this includes all traveling expenses, shuttles, coaches and any other related costs.


Catering - include all food and beverage charges plus tips, taxes and gratuities.


Activities - if you plan on having activities like golf, tennis, biking or anything else of that nature, it's a good idea to list those expenses separately.


Printing fees - include invitations, newsletters, place cards, name badges, program booklets, event agendas and banners.


Equipment - expenses in this category include the audio-visual equipment, projector rentals, staging and podium rentals.


Gifts – it's always nice to give your guests a small gift for attending the event. So, whatever gifts you decide to provide, track the cost for them in this category.


Miscellaneous – list here all items that don't fall into any other category.


Contingency fund – no matter how well you plan the event, chances are you're going to exceed projected plans with expenses that you never considered. Adding a contingency fund will prevent you from going over budget.


After you list all those expenses separately, add them together to get an idea of the total cost. Share this information with your event manager so that they are aware of what you can afford.
More Articles by Amanda
«-- Return to Article Index