Home
»
Articles, Guides, and Tips
Posted by
Amanda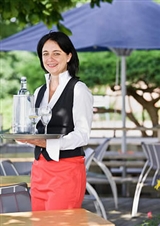 There are quite a lot of caterers in Long Island. Many of these catering companies cover weddings—and they do so by expertly providing the exact menu of the bridal couple's choosing. In fact, there are so many qualified and professional catering companies on Long Island, it can be difficult for a bridal couple to determine which caterer to choose.
Here to help with that complicated decision are some questions each bride and groom should ask any prospective caterer. The answers the caterer gives to these questions can guide the couple, letting them know whether or not this specific caterer is a good choice for them—or not. Here are the questions:

Would ours be your only wedding you have to cater that weekend?
The ideal answer to that question from any prospective caterer would be "yes." However, many caterers—especially larger businesses—may have more than one wedding to cater on any given weekend of the year.

If the caterer has a large staff and a large kitchen preparatory area, and if he has a great deal of catering experience under his belt, he can possibly handle multiple weddings in one weekend. Otherwise, he may be taking on too much to book more than one wedding for any particular weekend.
So, don't automatically turn away if a caterer answers "no" to the above question; instead, find out about his experience, his staff, and his kitchen area.

Are set-up and clean-up costs included in the price? What about gratuities—are they included?
It is important to find out about this ahead of time so that you are not unpleasantly surprised afterwards with a bill that is much higher than you expected. Some catering companies include these costs in their prices; others charge these as separate fees. It really doesn't matter which way a caterer chooses to place his fees—just find out the information before agreeing to anything.

What type of deposit is required? When is the balance due?
Again, as above, this can vary from caterer to caterer. Just find out the information ahead of time so that you know what you need to do.

Who will be my contact person? Will he be at my wedding in case I have a problem or concern?
You need to know who you are supposed to contact at the catering company in regards to any questions or concerns you may have before the wedding. It is also important to know if that contact person will be at your wedding to help solve any possible problems. Ideally, the catering company will send your contact person to the wedding ; if not, ask who will be at the wedding for you to go to with any concerns.

Asking these questions to any caterer on Long Island should help you decide which catering company you want to go with for your wedding. Of course, you will still have to choose based upon other factors as well—such as tastings of the menu, availability, and pricing, to name a few—but these questions will get you on your way to selecting the best caterer for your wedding.
More Articles by Amanda
«-- Return to Article Index