Home
»
Articles, Guides, and Tips
Posted by
Amanda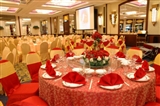 Catering halls come in all shapes and sizes and finding the right location can be one of the biggest decisions that you can make regarding your event planning. Whether it is a hotel, country club, yacht, winery, or mansions, you want to consider some of the below things before determining what will be the best choice for you and for your particular events. What are some of the details that you want to consider in choosing your catering halls?

Size of party. The size of the party will be a huge determinant in where you choose to have your event. Many of the catering halls can be customized according to your needs, but all places have a maximum number of people that they will allow. By considering how big of your party is going to be, you can determine what catering halls and event locations are the right choice for you.

Type of event. If you are having a more casual event, you will probably want a more casual location. For example, if it is a formal wedding, a gorgeous waterfront mansion is a great choice, but if you are having a hoe-down fundraiser, you may want to consider a different location that will be more in the keeping with your themes. By understanding what kind of event that you are having, you can better determine what kind of catering hall or even location that you want.

Budget. All of the different catering halls that are available will cost you a different amount. You want to think about your budget to determine if a particular location is going to fit into your budget with the additional costs of food, decorations, and other details that go into planning an event. Budget can make or break an event, so you want to be sure that you consider your budget when you are choosing the location to be sure that you will not be tight on the other aspects of your party.

Location. Do you need to be in a specific area of town for maximum convenience for the people attending or does it not matter as much as other decision points? This is something that you will want to think about when you are looking at different catering halls and event locations. If other aspects are more important than budget, keep that in mind when you are looking at the different places to ensure that your other needs are met as best as possible.

When you are planning an event, you want to be sure that you choose the right location for your party's size, the type of event, budget, and your needed location. All of this can come together to help you to choose the right catering hall and to make your event a huge success. Whether it is a wedding, fundraiser, meeting, seminar, or one of a dozen other types of events, you will be able to find the right location for you and for your particular wants and needs.
More Articles by Amanda
«-- Return to Article Index