Home
»
Articles, Guides, and Tips
Posted by
Amanda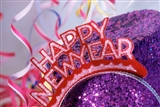 There is never a better time of year to host a party than at New Year's. It's a brand new start for everyone – a new hope for the future and what the new year could bring. So why not host a huge celebration and include all of your friends and family members in one place to celebrate together? It's easy to hold an event at a catering hall where you can serve dinner, drinks, dessert and host an event that is fun for everyone.

The best part of New Year's is that you don't have to pick a date for your party! It's already pre-selected. You will need to come up with a time that you would like to start at. If you are going to be serving a meal, then you will want to start a little earlier so the staff can prepare the meal and everyone can eat or get through the buffet line before it is too late. Serving dinner at 8:00 is a great time when you are having just dinner and conversation. If a band or a DJ will be setting up for your guests to dance, then you might want to make it 7:00 so that the tables get cleared up and there is still couple of hours to dance after the meal is served.

Now it's time to actually pick out your menu. Since it is New Year's Eve, why don't you go all out and pick a menu that people normally wouldn't eat any other time of the year. If you want to make it a party for everyone to remember, do it up right and make the food part of that memorable experience. Is it a seafood type of night? Do you want a southern style BBQ where everyone comes away greasy? Work with the staff at the catering hall to get the menu exactly as you want it for a memorable night. When you are planning your menu, you will need to take in to consideration the age of your guests. Are you including kids on your night? Make sure there are child friendly food items on the menu for them as well.

Decorations are a key to making your party memorable as well. Are you following a specific theme, like New Year's in paradise? New Year's in a winter wonderland? A plain New Year's celebration is nice to and can be decorated to the nine's in order to impress your gests. Every New Year's party needs a giant clock to count down until midnight. If you are creative, you can even come up with your own "ball drop" at midnight where all of the guests can count down the last seconds until the new year starts. Some other great decorations include balloon arches, streamers, signs around the room and confetti. You need lots and lots of confetti to throw around once the clock has struck twelve.
Besides confetti, there are a few things you should have on hand for guests to have at midnight. Noisemakers are a great way to signal a new year! Horns, twirly noisemakers, maracas and poppers to pull and shoot confetti are all festive choices for your guests. When kids are invited to the party, they will also enjoy getting to make as much noise as possible while they throw confetti and streamers around too.

Your New Year's party might be able to go past the midnight hour and stay open until 2:00, when most bars close. If you will be staying out that late and dancing and drinking, you might want to consider an appetizer table. Not only will the food help to keep people sober, it will fill them up so they aren't ravenous in the morning. Finger foods such as crackers, cheese, veggie trays, fruit trays and cookies work well when you just want to have the guests be able to pick and choose what they want. If you prefer to go a bit more elaborate, then you could offer a light meal instead of just appetizers. You could provide wings, jalapeno poppers, or whatever other hot appetizer your catering hall will serve.

If Dick Clark has always been a part of your New Year's celebration where you watch him count down to the New York ball drop, then you might want to check out the media availability at your hall. They could have a TV system that you can use already or else you might have to go outside of their facility and rent one. Check to see that the TV system is programmed and that the TV channels will come in to the hall and not just be fuzzy black space.

Another detail you will want to handle for your guests is the music an entertainment. Are you having a lot of young kids? Kids will dance with the adults for a while, but then they can get bored. On a table or an area away from the DJ or band, set up a table with activities for the kids. Put out a color book station with lots of crayons and pain paper. A couple pairs of children's scissors, some string, glue, paper, sequins and pipe cleaners could result in a couple hours of creativity for the kids. Make sure the kids have punch, soda or water to drink all night so they don't get parched either.
More Articles by Amanda
«-- Return to Article Index