Home
»
Articles, Guides, and Tips
Posted by
Amanda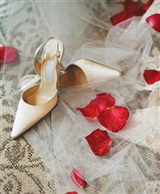 You found the man of your dreams and you have the perfect engagement ring. What is next? You must set a theme for your wedding day that reflects both the style and the love of you and your fiancé. This will get the wedding ball rolling. Traditionally it is the bride in a white flowing gown accompanied by your man in a nice, black tuxedo. Today weddings can be just as unique as you are.

Today bridal gowns can come in a variety of colors. The traditional white is nice, but it is not the only option. You can even have gloves, headpieces, ribbons, and sashes in a variety of colors to make your wedding stand out. For the groom an untraditional white jacket can be worn especially if your wedding is barefoot at the beach.

Your fairytale event can take place just about anywhere that you can imagine. The beach is a popular place and so are church weddings, but the themes have been updated.

The color of your wedding can be the theme for the entire process. You can use one color or a combination of hues. They can incorporate into the decorations like the flowers, bridesmaid dresses, tablecloths and other various details for the wedding.

Do not forget about the reception and the bridal shower. The colors chosen should be used within these events too. With these two events, you can go brighter and bolder than you would with the actual ceremony.

Wedding themes can be a variety of things. Love is a great way to go with an emphasis on Valentine's Day. This would be a very romantic style wedding with dates in the months of February, May, or December. Other themes can focus on a certain time period like the 1970's because of the music or lifestyle. You can even do a glamour wedding with a formal theme.

As a couple, you have activities that you both enjoy so why not use that as a theme? A country club theme is a great idea or one that focuses on their love of boating or the beach. There is something calming about saying I Do with the waves in the distance.

How about a wedding theme that centers around Star Wars? It can and probably has been done. If you enjoy a TV show or a movie, then incorporate that into your wedding day celebration. Even a simple down home country wedding can be elegant. Gothic weddings, nautical themes, and medieval themes are also quite popular. You can even base a wedding off a popular icon like Elvis or Marilyn Monroe.

Whatever you choose one thing is for sure. The love that you have will be evident at your wedding. The theme should be the choice of you and your husband. It can be whatever you want since the wedding is your special day. Choose something that you love and go wild with the idea. You and your friends will have a very special day to remember always.
More Articles by Amanda
«-- Return to Article Index