Home
»
Articles, Guides, and Tips
Posted by
Amanda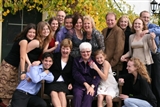 In the past, families generally stayed in pretty close proximity to one another. Sons and daughters would inherit the family business and remain in the area to take up where their parents left off. Older individuals would live in the homes of their sons and daughters when they became incapable of living on their own. Aunts, uncles, cousins, grandparents, sons and daughters had no trouble getting together and visiting on a regular basis.

Today, however families are spreading further and further around the world, and younger generations are being robbed of the unique benefits that the wisdom, insights and guidance of the older generation can offer. For this reason, planning a family reunion is more important than other. A family reunion is a great way to get the whole family together again. During family reunions, younger family members are able to see the lengthy history of their families. They can discover their roots and see how older generations paved the way for the accomplishments of the younger generations. If you are planning a family reunion, you will need the right venue in order to accommodate all of your family members.

Size

The first thing to consider when you are choosing the venue for your family reunion is the number of guests. Depending on how many family members you have in your extended family, you may need an exceptionally large venue to enable the whole family to gather together. Another thing to consider is the number of family members you expect to be able to attend. Family members who live out of the country or several states away may not be able to make it.

Unfortunately, it may not be possible for you to have an accurate head count when it is time to choose the venue. Some large catering halls and reception halls require several months' notice when booking the venue for an event. If you cannot get an accurate number of family members who will be attending the reunion, you may have to approximate. Try to err on the larger side when choosing a venue: a catering hall that is too small is much worse than a catering hall that is a little bit too large.

Seating

The next thing you will want to be sure of is securing an adequate number of chairs for all of the members of the family. During a family reunion, many people will be milling about visiting with relatives that live far away. Even though everyone will probably not be seated at the same time during a family reunion, it is important to have enough chairs for everybody.

Another important factor to consider is the type of chairs that will accommodate your large crowd. Because there is such a wide spectrum of ages at a family reunion, it is important to have chairs that will accommodate all types of people. Young families may bring very small children that will not be able to sit in a chair that is designed for an adult. Similarly, some family reunions may include extremely old family members that will require special chairs designed for comfort and mobility. Be sure to inquire about the specific needs of all attendees when choosing chairs for your event.

Location

The location is probably the most important factor to consider when you begin researching potential catering halls or reception venues. You may want to choose a venue that is centrally located amongst all the members of the family. However, choosing a midpoint for the venue may present problems if the closest venue for all family members is in a city in which no family member resides. It might be impossible for family members to arrive early enough to set up tables and chairs and prepare food.

In some instances, it might be better to find a venue in a family's historic home town or the place where the oldest generation still lives. This accomplishes two things. First, the family can return to the place of their roots and visit landmarks that are important to the family. Secondly, the oldest generation will not be required to travel great distances in order to attend the family reunion.

Activities

If you are planning a family reunion, you may want to come up with some activities for the family members to participate in. While talking and visiting will probably occupy most of your family's time, it is a good idea to have some entertainment, games or sports lined up for younger family members to engage in. One idea is to have musical performances that are representative of the different generations that have all come together at the family reunion. You may want to ask grandparents and great grandparents about their favorite musical styles, and pair this music with the favorite styles of the youngest family members.

Organizing games like Capture the Flag and Hide and Seek is a great way to keep the children at the family reunion entertained. Young children especially may not understand the value of a family reunion, and they may want a way to escape from all the cheek pinching.

Menu

The menu is often the last important part of the planning process. One of the easiest ways to plan the menu for a family reunion is to organize a potluck dinner. At a potluck, each family brings one or two dishes that are shared with the entire group. If you choose a catering hall that has a kitchen facility, you can include this information in the invitation so that family members know they can bring dishes that need to be reheated or finalized on the stove. You should also verify if there is a refrigerator at the facility and include this information in the invitation.

If you want something fancier than a potluck dinner, you can organize a catering service to supply your event with a catered menu. To pay for this catered dinner, you can take up a collection amongst family members or charge a small attendance fee for each member of the family. Catering often takes a huge load off of family reunion visitors, as family members won't have to worry about preparing a dish or carrying it for long distances.

Invitations

The last step when you've planned a family reunion is to send out invitations well in advance. With Facebook and other social networking sites, sending out e-vites to all family members is very easy. You should include the name and location of the catering hall or reception venue so that all the members of the family can easily locate the family reunion.

More Articles by Amanda
«-- Return to Article Index