Home
»
Articles, Guides, and Tips
Posted by
Amanda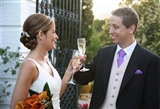 Weddings must be planned out carefully so that they flow without a hitch. Every detail from where people are standing, sitting, and even the toasts should be practiced and well coordinated. This is where rehearsal dinners and wedding planners come in handy.

A wedding takes months if not years to plan. You must allow yourself enough time to finish everything properly and efficiently. The budget is where you must begin because that will set the standard for what you can afford and what your theme will be. This includes everything from the wedding planner to the wedding dress. Be careful not to go over your budget as so many brides-to-be often do.

Once you have the budget settled, you will have to move on to the guest list. Your invitations must be sent out in advance so that your guests can RSVP. Remember to add in the postage of answering your invitation because so many forget that part and it is a huge part of etiquette and manners. Price check around town so that you can get the best price possible for your invitations as well as all other decorations and accessories that you may need.

Also, make sure that your guests are well taken of from parking to accommodations. Guests are that, your guests, they should never have to pay in order to attend your wedding.

The bride is the focal point of the wedding. You should not forget about the groom though. His tuxedo is just as important as the dress and the colors must match. The theme of the wedding is just as important to him as it is to you and it is fun to plan the wedding together. You may desire a beach style wedding with casual attire even for the wedding dress; however, if your groom to be is not aware of this, he may come dressed in a black tuxedo.

Your wedding is a place to showcase your love and thank your guests for coming. Once the I Do's are said and done, you need to visit each table of your guests and show your appreciation. This will make your guests feel like you actually did want them there and a few words go a long way.

Within weeks of the wedding, you need to send out thank you cards. This is just a quick way to say that you got each guest's gift and that you appreciate the gift and the thought. A short thank you with the description of the gift will be enough.

Weddings have a knack for being disasters. Sometimes it rains when there is an outdoor wedding and sometimes the caterer is late. Do not let the little missteps ruin your whole day. Have a good sense of humor about it all and the day will continue even if problems do arise.

Everyone, from relatives to the caterer may have a say in your wedding day festivities. Listen to them politely. You do not have to do exactly what they say and sometimes they do things that they did not even say. You never know. Someone might give you an idea that you may be on board with instead of totally rejecting.

Your wedding day is your day. You need to do what you and your groom desire. Some people will want to have their say, but ultimately the decision is yours. You do not have to please everyone, just yourself, and your new husband.
More Articles by Amanda
«-- Return to Article Index