Home
»
Articles, Guides, and Tips
Posted by
Amanda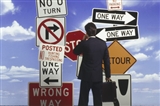 Planning a wedding can be stressful and time-consuming. There are so many details and different aspects to take care of. Probably one of the most important tasks a couple must handle is choosing a reception hall. Some venues have ceremony capability while others don't. Most couples choose a religious facility based on where they attend services therefore this decision is usually easier to make. Just make sure it's not too far from the reception hall because it would probably inconvenience your guests to travel long distances between the two locations.

The first question you should ask is whether the hall is available for your wedding date. If you haven't chosen a date yet, maybe the venue's availability can help you decide when to walk down the aisle. Make sure you know how late the hall closes. The second most important thing to consider is the capacity. If you already have a guest list, it should be easy to determine if a certain hall meets your needs. Next, consider the price. Different halls charge different prices so it would be useful for you to know in advance how much you're willing to spend on the reception. In addition to that don't forget to inquire about any hidden fees and deposits. Also ask what's included in the price - you might be surprised to learn that some venues charge extra for things like tables and chairs.

Your personal style also plays a big role in choosing the right reception hall. Do you prefer simple and elegant or elaborate and fairytale-like atmosphere? Your vision of your wedding day dictates what kind of setting you'll be most comfortable with. Catering is another essential aspect to consider. While some halls insist that you use their on-site catering services others will let you bring your own caterer. Often, halls that require on-site staff do the cooking also require a minimum number of guests and those that permit private caterers might charge extra to allow use of the kitchen to outside vendors.

Decide what the service style of your reception is going to be - casual buffet or a formal sit-down dinner, and find out whether it's available at the reception hall of your choice. As for drinks, bar services range from full bar with unlimited liquor throughout your reception which is the most expensive option, to only a few select drinks offered, to cash bar where guests pay for their own drinks.

Be sure to see at least three wedding venues before finalizing your decision. And if you manage to save some money on the reception location, you could use it for other aspects of your wedding like a dress, décor or entertainment. In most cases it pays off to spend more time researching your options. Once you've found the perfect location, book it as soon as possible because dates usually fill up well in advance.
More Articles by Amanda
«-- Return to Article Index