Home
»
Articles, Guides, and Tips
Posted by
Amanda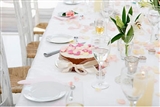 Weddings are held in many different locations including churches, gardens, homes, and catering halls. Catering halls are often chosen as after the wedding the reception can be held at the same location with the chefs at the hall doing all the preparing of the food. You may even be able use an outdoor location at the catering hall for your wedding. Some have gardens, are located nearby a lake, or stream which would be a wonderful backdrop for your special event.

A catering hall may not look as elegant or as fancy as you might want for your wedding, however, it can be transformed into a magical wonderland if you know how to decorate.

Let start with the basics, you will need to have a few things to get started. Talk with the experts at the catering hall. In most cases, they will have tables and in many cases linens you can use as well unless you have chosen a specific theme and color which is a different story. First, consider the type of decorations you desire. Is the wedding going to have a specific theme such as Western, Celtic, or even by the season such as autumn. The theme has quite a bit to do with the type of decorations you will want to use to transform the catering hall. If you have chosen a Western theme, clouds hanging from the ceiling would not be best. You see what I mean. So, first things first – do you have a theme? If not a theme, do you have color choices?

Crepe paper is always a great way to create a festive or even an elegant atmosphere. You can use any color and create a beautiful decoration even going as far as creating roses from the paper to drape around the room from pedestals, columns, tablecloths, and chairs.

Flowers are wonderful. You can find a large array of different flowers and greenery to dress up the catering hall. Use fake vines trailing down the walls to help in the creation of a fairy tale land for a princess wedding. Your imagination can go far when you start creating with flowers and greenery. Use a photo of a waterfall on one wall and drape around the photo baby's breath and vines. This would look great for a luau wedding.

The tablecloths can be white if you desire for any theme and then use centerpieces, rose petals, or other accessories to create the desired affect. Candles can also be used according to the theme you have chosen. Romantic weddings often use candles in various colors to match the dresses of the bridesmaids.

One great added touch to any wedding is a wedding altar. You can rent an altar but in many cases, they are pretty bland, so you will want to spruce it up a bit.

The altar is the first place that your family and friends will see you together as bride and groom. This one location will be the center focus during the entire ceremony and will be remembered by all that attend for years to come. Due to this reason, you want the altar to be a very beautiful and memorable creation. Just a bland wedding altar will never do.

The easiest and simplest way to decorate your wedding altar is by using the same type of flowers you are using around the room for the rest of the décor. You could on the other hand, create a contrasting décor that will stick out in the mind of your guests. If you are using roses all around the room, use something a bit out there such as sunflowers or daisies to dress up the altar. This would add a bit of summertime to the event and would make the altar stand out.

On the other hand, if you are having a themed wedding, the altar must represent this theme. If you happen to have chosen a western theme, you may wish to have lassos and bales of hay around the altar with wildflowers encircling the shape the altar.

You may wish to use crepe paper, fabric, fake vines, fake flowers, birds, apples, stars, glitter, or a slew of other items. You may wish to walk to the altar with flowers along the path or possibly glitter to resemble star dust as you approach the moon or another planet. This is your wedding and you can create any theme or atmosphere you desire. Imagine walking along the rings of Saturn to your wedding altar that resembles the galaxy complete with shiny stars and planets all hanging down from the ceiling. This would certainly be a wedding that would be considered out of this world.
More Articles by Amanda
«-- Return to Article Index