Home
»
Articles, Guides, and Tips
Posted by
Amanda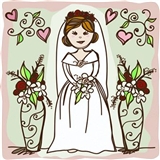 The most important day in every woman's life is her wedding day. The day has to be perfect with every detail carefully calculated and executed. At first, the wedding planning can become quite overwhelming, but as the day quickly approaches, all of the planning becomes worth all the hassles.

To start planning for your dream wedding a theme must be chosen. This starts the process to the countdown to saying I Do. There are varieties of themes to choose from and each woman can find a way to celebrate her day the way that she always imagined. Plus you can come up with your own theme that says something about you and your husband that no one else has done before.

A traditional wedding is very popular these days. Those are the ones that most see, which include beautiful white gowns with the bride walking down the aisle to marry in a very romantic way. The flowing gowns look romantic walking down the aisle. Other parts of a traditional wedding include roses, candles, and soft music that ushers in romance. Romance and weddings go together and women love to be romanced.

While romance is popular for weddings it is not the only theme for one out there. Outdoor beach weddings use nature as their decoration. They are simple, yet elegant. These types of weddings can still be romantic with a horseback ride down the aisle and down the beach. If you want a more fun style beach wedding, you can include music with a beat and fun finger foods.

Themes for your wedding can also include the four seasons. This way you use the colors of each season to decorate for your wedding. That gives your wedding day a beautiful aura and great pictures for your photo album.

Spring and summer weddings are all about the beauty of flowers. If you plan your wedding around either of these seasons, then you should check and learn what flowers are in bloom during those months. That would include pinks, reds, and yellows.

In the fall, the colors turn to reds, oranges, and yellows. Light browns can also be used. Snow is the element of choice in winter and the color of course is white. It makes for a pristine look. You can add reds with roses to your winter wedding.

Your ethnicity can also be used for your wedding theme. Whether you are Italian, French, Japanese, or another ethnicity you can incorporate that into your wedding theme. Use the foods of your ethnicity to spice up your wedding day.

Having a wedding theme can make your wedding process go a lot smoother. Wedding themes are not just for the bride to be, your husband to be needs to be involved with all of the wedding details including the theme. Pick out a theme that you both agree on for the perfect day to the start of your lives together. Even two themes can be paired together for a unique wedding.
More Articles by Amanda
«-- Return to Article Index