Home
»
Articles, Guides, and Tips
Posted by
Amanda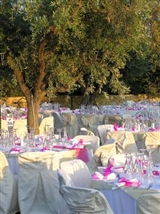 With the religious service being the most important part of any Bar or Bat Mitzvah, the celebration afterwards should also be a memorable occasion for your child or grandchild. The reception is a time for friends and relatives to come together and celebrate this big milestone in the honoree's life.

Your first job is to set the dates and times of the ceremony and celebration. Discuss this with your rabbi or the administrator of your congregation well in advance because some dates may not be available or appropriate for a Bar/Bat Mitzvah. The day of the religious ceremony of the Bar/Bat Mitzvah must be held on a day with a synagogue service that includes a Torah reading. In addition to that, the date must be on or after the child's thirteenth birthday. That's why some people find it more convenient to hold the reception on a day other than the religious service.

Your next task is to decide what the size of the reception would be. Bar/Bat Mitzvah receptions can range from large banquets to intimate dinner parties. Determine how much you can afford to spend on the event and how many guests you plan to invite. If both your budget and guest list are on the smaller side, a dinner at a nice restaurant may be your best bet. But if you plan on inviting a lot of people, a large banquet is a popular choice. Reserve the location where you'll be hosting the party. The synagogue or Jewish Community Center may have a reception hall available for these types of special occasions, or consider a banquet room at a hotel, restaurant or conference center.

Decide what food and beverages you want to serve and what the style of your reception would be – a casual buffet, a formal sit-down dinner or something in between. Speak to a few different caterers and get estimates before finalizing your decision.

Next, choose the décor. You could decorate the hall yourself, or enlist someone to do it for you. Popular color choices for Bar/Bat Mitzvahs are blue and white, but you don't have to keep with tradition! Select your colors according to your theme, but keep in mind that more than three or four colors may look too overdone. Two primary colors and one or two accent colors is a great combination.

You'll need to hire a band or a DJ if you plan on having music and dancing. Talk to a few candidates before booking anyone to make sure that they can provide the kind of music you want. If you wish to include traditional Jewish or Israeli music, you might have to provide the DJ with some CDs.

Plan the order of events carefully - speeches, a special dance, presentations, etc. And don't forget to confirm all your arrangements and reservations one week before the celebration to ensure that everything goes smoothly.
More Articles by Amanda
«-- Return to Article Index