Home
»
Articles, Guides, and Tips
Posted by Lauren Pozmanter on 9/27/12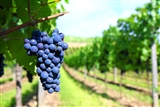 Long Island's Wine Country is home to acres of beautiful vineyards. But wine and tasting are not the only things you will find out east. Long Island's vineyards have long been host to gorgeous and affordable weddings. With acres of grapes and vines, this scenic environment will make your wedding day a day to remember. Venues such as Palmer Vineyard will open up their tasting rooms during the reception to ensure a fun and relaxing day for your guests.

There are many benefits to having your wedding out on the North Fork at a vineyard. One thing that makes wineries so attractive is that they are the pride of Long Island. Long Island's wines are quickly becoming more popular around the nation and the world. For those who are born and raised on Long Island, having your wedding at one of these vineyards is a great way to support your local community, and bring awareness of Long Island wine to your family and friends from out of town. Another thing that makes a vineyard wine special is that you can save money by cutting on decorations and floral costs. With the natural beauty of a winery, there is very little that you will have to add. With just a few personal touches you can keep your wedding in budget and have a natural intimate feel.

What might be the biggest money saving factor of having our wedding at a vineyard is of course, the wine. Most if not all vineyards require, understandably, that you serve their own wine at the reception. Vineyard's such as Pindar and Duck Walk will offer great discounts on full cases of wine as well as on wine wedding favors. Not only will you get the wine for a discount but at Pindar and Duck Walk they will even wrap and tie all the favors free of charge. Another attractive aspect to a vineyard wedding is that they are environmentally friendly. Shinn Estate Vineyard bases its whole philosophy off of healthy and organic production while other vineyards are beginning move away from chemical fertilizers and start using compost. For those looking to have a lovely wedding and support their local farmers, a Long Island vineyard wedding is the perfect fit.

***
This Article was written by Lauren Pozmanter.
More Articles by Amanda
«-- Return to Article Index