Home
»
Articles, Guides, and Tips
Posted by
Amanda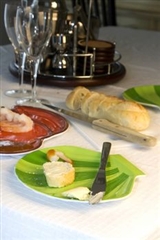 Ranging from intimate dinner parties to huge banquets, lavish celebrations are the norm for a Bar/Bat Mitzvah nowadays. Choosing the right venue for this special event is one of the biggest decisions you'll have to make in the planning process. If you're having a large banquet, give yourself enough time to prepare – you should start looking for a hall about a year in advance of your event. Check with local wedding halls and recreation centers. Those places usually offer food as well or have good caterers they rely on and work with. Having a venue with an in-house caterer is a great time and energy saver. Consider the number of people on your guest list when looking for a venue. If you don't already have a guest list, try to come up with an approximate number. This is especially important if you're hosting a more intimate dinner party because last-minute additions or subtractions are usually much harder to accommodate on a small scale.

Some of the most important things to consider are whether the hall is available for your Bar/Bat Mitzvah's date and whether it has the necessary seating capacity. Next, ask about the price. Different venues charge different prices so it would be a good idea for you to know in advance what your budget is. In addition to that don't forget to inquire about any hidden fees and deposits. Also ask what's included in the price – some halls provide just the space and you'll have to rent all the other items you need like tables, chairs, linens, etc.

When interviewing prospective venues, make sure they offer the services you need. For example, if you want to showcase a presentation of your son or daughter throughout the years, the reception hall should have audio-visual capabilities. Once you've finalized your decision, you will probably have to place a deposit on the venue to hold your date.

It's best if on the day of the Bar/Bat Mitzvah the person who organized the event is present at the venue to coordinate arrivals and deliveries. If not, assign a friend or a family member to oversee the venue set-up. Greet all guests as they arrive and put the gifts in a central area. And finally, enjoy the celebration you arranged with so much effort!
More Articles by Amanda
«-- Return to Article Index