Home
»
Articles, Guides, and Tips
Posted by
Amanda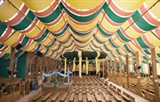 Today many individuals turn to the local catering hall for all their large event needs. The main reason is that the halls are large enough to accommodate several people for a wedding reception, anniversary, conference, bar mitzvah, birthday party, or many other events. If you have never looked around your area for a catering hall you may be surprised that there are more than likely more than you might believe. First, you must decide the size of the catering hall you need. After you know how many people you need to accommodate, then you can start looking at catering halls that provide you with all the room you need for your event.

The next step is to learn what services the catering hall offers and what services you desire. You can talk with each catering hall and learn what experts they have on their staff. In most cases, they will have all kinds of professionals that can help you choose all the decorations, menu, and more. Along with helping you with decisions the staff members can suggest cakes, balloons, limousine service, flowers, bands, DJ's, videographers, invitations, photographers, napkins, tuxedo rentals, bridesmaid dresses, and more.

If you are not sure once you speak with the expert staff, you can also contact a wedding planner if you desire the catering hall for your reception. For more simple events, you can usually make the decision without as much effort. Some of the things you may wish to check out at the catering hall include the size of the dance floor, the head table, and the size of the stage, etc… In most cases, if you need help the wedding planner will be able to help you make decisions or the staff according to what you choose.

When you begin your search for a catering hall, you should look at what the hall will provide. Some will include chair covers, linens, podium, and microphone. You will be responsible for all decorations and in some cases linen.

Providing the staff with your color theme will ensure that all details will be coordinated and followed to your details. In most cases, the centerpieces, candelabra, and food are usually included in the services. Most catering halls will provide samplings of the various foods they serve. The types of foods vary from casual to finger foods to formal. Hors d'oeuvres and champagne can also be an option or coffee and tea.

Along with catering the event, the wait staff is there to serve the food and ensure all guests enjoy their meal. You may also choose a valet, coat check, and bar set up according to the event.

When in doubt of what services you need, you can always speak with the staff at a catering hall to help you plan all the events from birthday parties to weddings to anniversaries to business meetings. Catering halls offer all kinds of services that will help you plan and enjoy a large variety of events.
More Articles by Amanda
«-- Return to Article Index