Home
»
Articles, Guides, and Tips
Posted by
Amanda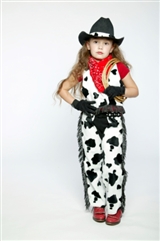 The number of different party themes and event themes that you can choose from are only as small as your imagination. From unique ideas to tried and true themes, you can have a themed event for almost any occasion. From fundraiser to wedding reception to birthday to anniversary and more, you can create and event around any theme that you want. One of these tried and true themes that you will want to consider is a Western or Hoedown theme. This can be a way for everyone to join in and have fun at your event.

Western Wedding. A western wedding can be a great way to tie the knot with your significant other. From a boots wearing bride to a square dancing reception to BBQ and beans for your reception, you can find all sorts of different ways to add a little bit of the West into your wedding, from invitations to ceremony to reception. The location can help to reinforce your theme. An old barn or a beautiful field will make a wonderful backdrop for a Western wedding to allow you to have the perfect day that you have always dreamed of.

Western Fundraiser. Having a Hoedown of a fundraiser can be a fun way to raise money for your favorite organization. Encouraging everyone to dress up in cowboy hats, jeans, and boots can be great fun and it can take some of the stress out of dressing for the event as well. Serve drinks in galvanized buckets and have a mechanical bull as an activity to help everyone to have fun and to encourage them to give to your organization, whether via donations, silent auction, or live auction. Auction items can include western themed packages, such as a BBQ dinner, a visit to a dude ranch, or a gift certificate for a nice pair of boots or a hat as well, to help make your event even more special.

Western Party. Whether for a birthday or anniversary you can have a western hoedown party for almost any occasion that you are considering. Even children love this theme and giving everyone the option to dress up can reinforce your theme and make it even more fun. Have western themed games, including pin the tail on the donkey, etc., to give everyone activities to join in on. Have a dance instructor come and teach some line dances. You are only limited by your imagination in choosing the activities and details that will go with your Western party to allow everyone to have a good time.

No matter what kind of event that you are planning, you are sure to be able to insert the Western theme into it. This can allow you to create an event that is all your own for you and your guests to thoroughly enjoy. Whether you want to have everyone dress in their favorite Western wear or you want to just enjoy Western themed decorations and food, you will find exactly the right balance for you and your desires. Plan your hoedown throwdown today.
More Articles by Amanda
«-- Return to Article Index