Home
»
Articles, Guides, and Tips
Posted by
Amanda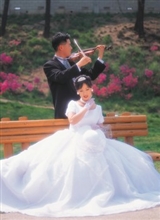 Music plays a big part in any celebration that's why selecting the right tunes for your wedding reception is an important task. First of all, think about the atmosphere you're trying to create. For example, for your cocktail hour you'll probably want some background music to allow conversation, and for the reception – party songs for dancing. Next, consider the tastes and age ranges of your guests. If you'd like to see all guests having fun on the dance floor, choose a variety of songs that span several decades. Start the night with songs so popular that everyone will know and enjoy. Later, as guests begin to leave, you can play your favorite age-appropriate music.

For their first dance most couples usually choose a well known romantic ballad. The band or DJ will also need to know what songs to play for your last dance, the parent dances and possibly the cake-cutting.

If the bandleader or DJ will be announcing the wedding party and reception events, make sure they have all the necessary information. Write down people's names with pronunciations, wedding roles, and their relationship to you. Check with your site manager if there are any time-of-day restrictions on music or noise level limits. Also consider your reception room size and the number of guests you'll have.

If you're hiring a live band, keep in mind that they'll need set-up time. If they have to travel a long distance to get to your wedding, travel expenses might be added to their price. Musicians will need to bring heavy equipment to your reception hall so it's a good to idea to check with your venue and make sure there is adequate parking space for them. Good DJs and bands might be booked up to a year in advance so the sooner you make arrangements, the better.
More Articles by Amanda
«-- Return to Article Index