Home
»
Articles, Guides, and Tips
Posted by
Amanda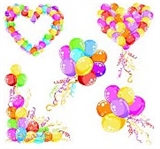 Valentine's Day is a very special day for commemorating the very special love between two people. Every February, couples around the world celebrate their love for one another on this special day. Many people organize large Valentine's Day parties for huge groups of couple to celebrate with a classy dinner and high quality entertainment. If you are planning a Valentine's Day party, you will need to make some important decisions about the venue, the decorations, and the equipment you will secure in order to make your event a memorable occasion.

While the typical Valentine's Day party might include cut out hearts of red and pink, crepe paper streamers, and silhouettes of Cupid, you can find new ideas and new Valentine's trends that will inspire fresh decorations for your Valentine's Day celebration. By thinking outside the box, your Valentine's Day party will be an event that will provide your guests with a memorable, fun, and special way to celebrate the season of love and romance.

Table Settings

When you choose a catering hall in which you will host your Valentine's Day party, it is important to consider the size of the venue. Depending on the number of guests that will attend your event, you may need an extremely large hall to accommodate all of the attendees. Tables will have to be rented if the facility does not provide them. You may want to choose large round tables that can seat six, eight or ten party guests. Always be sure that there is an even number of chairs at each table because Valentine's Day, after all, is a celebration of couple-hood.

When you secure tables, you must also rent enough chairs to accommodate all of your guests. If your guests will be seated for a long time at your Valentine's Day party, you may want to find chairs that are more comfortable than simple plastic or metal chairs. If, however, economy is the main consideration, you can find inexpensive chairs to rent with a neutral look.

When you are decorating the tables at which your guests will be sitting, try to choose romantic table settings that will not be too flashy or extravagant. Large centerpieces may be dramatic, but they will also inhibit table conversation and might be overboard for an intimate Valentine's Day party. A great idea for table settings for a Valentine's Day party is a simple arrangement of candles and a few beautiful flowers. You might also consider a centerpiece made of something more unique. Jars of shells, candy, stones, or glass beads make beautiful centerpieces. You can choose table decorations that are all white for a romantic look or choose something more festive that uses colors like pink, red and purple.

Wall and Ceiling Decorations

The decorations should not simply be limited to the table centerpieces. You can decorate the walls and doors of your catering hall so that guests are surrounded by the romantic colors and shapes associated with Valentine's Day. A very romantic decorating idea would be to drape different types of fabric around the walls of your venue. Draped fabric is a very romantic decoration. You might also consider placing candle holders and candle stands strategically around the room for a more romantic lighting alternative to fluorescent lights.

If you are having difficulty choosing appropriate decoration's at your catering hall for your Valentine's Day party, try starting with a basic color theme and working around that. If your color scheme is all white, for example, you can choose fabrics, flowers, candles, balloons, and other decorations that are all pure white. This way, all of your decorations will fit together seamlessly and tie the decorations of the event together.

Flowers

Valentine's Day parties would be incomplete without floral arrangements. Flowers are beautiful decorations to include at any fancy or romantic party, but Valentine's Day is one of the most perfect holidays to celebrate with flowers. If you are looking for appropriate flowers for the centerpieces of your tables or as dramatic statement pieces on a stage or at an entrance, you will want to visit your local florist. Choose flowers that fit with the color theme of your current decorations. For an all white Valentine's Day party, you may want to introduce a single color that will pop out in your floral decorations. Common flowers used at Valentine's Day parties are carnations, roses, tulips, and irises.

Menu Ideas

When you are hosting a Valentine's Day party, one important consideration is the menu that will be served at your event. You want to choose a menu that will accommodate all of your guests and will provide them with plenty of choices so that everyone receives a meal that they will enjoy. If your party is a little more casual, you can have a buffet style meal with several options so that your guest can create their own plate. If you want an extremely romantic event, you may choose to have a plate dinner catered. Always be aware of food allergies and preferences such as vegetarianism and veganism when you are planning your dinner menu. Many catering halls have kitchen facilities that can be used to prepare food or keep food cold or warm during your party.

Invitations

Once you have the facility rented, the decorations purchased and the menu selected, you must send out invitations so that your guests know when and where to arrive for your Valentine's Day celebration. Invitations are a perfect way to show your guests exactly what kind of party you will be hosting. Depending on the quality of the invitation and the design invitation, guests will know how formal the event will be. You may also choose to include information on the invitation about proper attire and activities that will take place at the Valentine's Day party. Always include directions to the event, the date of the event, the start date, and a method by which guests can RSVP.

Lighting

Choosing the appropriate lighting for your event is very important, especially for a Valentine's Day party. Often, catering halls are equipped with fluorescent lighting that may be too harsh for the romantic environment you are striving to create. If this is the case, you may choose to supplement that lighting with candles. If you can acquire enough candles, you can keep the lights turned off and light the entire event by candlelight. Candles are a very romantic item that can dramatically transform the aura of your Valentine's Day party.

Choosing the perfect venue, tables, decorations, menu, and lighting will help you transform your event from a run of the mill Valentine's Day party into a special celebration that couples will remember for a lifetime.
More Articles by Amanda
«-- Return to Article Index