Home
»
Articles, Guides, and Tips
Posted by
Amanda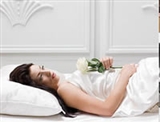 Every little girl dreams of Prince Charming riding up and taking her off to that beautiful castle. Girls start planning their wedding from the moment they begin to play house. Many see visions of candles, long flowing gowns, pumpkin carriages, ballrooms, long winding stair, and of course all the beautiful flowers of the season.

You can plan your Fairy Tale wedding that will begin with the invitations you choose and ending with the transportation you use leaving the wedding reception and heading off to your honeymoon. A matter of fact, you can even have your fairy tale wedding theme include your honeymoon if you choose to visit Disneyland for your honeymoon.

Let's start with the invitations. You must ensure that the invitations are designed to look as if they came out of storybook and all of your guests must be dressed appropriately. This must be included in the invitations so you do not have a guest dressed in the wrong manner.

When you think of fairy tale, you may only have on your mind Cinderella, however, when it comes to create fairy tale weddings you may wish to choose from three popular themes, which include Under the Sea, Medieval/Renaissance, and Fairy Tale. Of course, you must make your decision before you choose the invitations so every aspect of your wedding with blend from beginning to end.

Under the Sea can be a fun wedding with all kinds of great invitations and decorations. Of course, you do not want to dress like a mermaid under the sea, but you can wear attire that is more casual. Sand, sun, and fun of course are the major theme ideas. You can easily use colors of the sea to decorate the church and the catering hall for your wedding and reception. If you happen to have a reception hall nearby a lake, or ocean, driving off in a boat for your honeymoon would be an added touch. A few ideas you can use for decorations include seashells, treasure chests, sailboats, tropical fish, and other sea life.

A Medieval/Renaissance wedding is another great way to have a memorable wedding away from the traditional. For this type of wedding, you will need to do a bit of research unless you know the type of clothing that was worn. White wedding dresses were certainly not the style. In most cases, brides were dark dresses and always wore their hair up while men wore their hair long and down. With this type of wedding the catering hall used for the reception and possibly the wedding could be decorated to look more like a magical forest or a castle. Of course, guests would need to know what attire would be appropriate for both the wedding and the reception. You could ride away on horses or in a carriage.

Fairy Tale wedding is often one that uses items that remind us of Cinderella including pumpkin carriage and glass slippers for decorations. Of course, the bride would wear a long flowing gown and the groom a tuxedo. All guests would be dressed as if going to a ball. Decorations could be most anything elegant from crystal to lanterns. The reception would have the same decorations and the bride and groom would ride off in a horse drawn carriage.
More Articles by Amanda
«-- Return to Article Index