Home
»
Articles, Guides, and Tips
Posted by
Amanda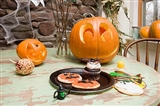 What would Halloween be without a bit of blood? In many cases with a few of us, the more blood the better. We love to be scared and to enjoy every minute of the creepy, scary, things if only on Halloween. If this sounds like you then you will want to create the scariest Halloween party of the century. The only way to do this is to include blood and more blood in your party accessories. No, of course, you do not use real blood you use all kinds of things that resemble blood.

The very first thing to do is find the perfect catering hall that will accommodate the guests you are inviting. A catering hall is a great place for a Halloween party as you can create a scary, spooky, or bloody event that will give all your friends plenty of room to enjoy the party instead of moving furniture from room to another and still not have room for all your friends to move around easily.

Once you have found the perfect catering hall you should discuss with the staff to learn the services they provide. They may be able to prepare the foods you desire; however, since your theme is Bloody, you may wish to create your own treats.

Invitations are the next step. Remember the theme again. You may find invitations already made but it can be fun creating your own. Use construction paper flesh colored, bandages, gauges, and of course red paint. If you would prefer you, can go a bit farther and really get your guests excited. Visit a gag shop and buy bloody parts such as severed fingers, severed ears, and so on and so forth. Cut out letters you need for the wording on the invitation from newspapers and magazines. Now, arrange the letters into the wording for your invitation and paste them in place. Once they are dry, you can tie the invitation to the bloody severed body part.

With an invitation like this one, you had better be sure that you have decorated everything to go along with the excitement that you have already started. There had better be blood from the door all the way throughout the party including the foods.

Name tags can be fun if you wish to add a bit of flair by adding their blood type and next of kin, just in case. The front door should look like something out of horror film, old half torn open cabin door, a cemetery arch, a freezer door with blood on the window, etc…

Decorations should be blood, blood, and more blood – Chain saws, severed heads, pools of blood, gauges with blood, bandages, and butcher tools of course with dripping blood. Blood should be hanging from as many places as possible. If you plan to serve food, create a couple of zombies to sit beside the food. Remember you must have blood oozing out somewhere. Every room should be decorating including the bath. Even if the catering hall does not have a shower, you can still put up a bloody shower curtain in the corner. A female mannequin behind the curtain lying in the floor in a pool of blood will certainly do the trick.

No matter what food is served, be sure to have plenty of butcher shop props to place around the meat and the table. A few severed fingers sticking out of the meat will do wonders for the atmosphere. Cookies in the shape of body parts such as fingers and toes with red icing will be a big hit. No matter what you serve to drink be sure to place a few homemade eyeballs floating around.

You may wish to play a scary movie in the background instead of music for your Halloween party. You could choose a classic such as Dracula or Psycho, or maybe the entire series of The Nightmare on Elm Street or Saw.

Do not forget to have a Halloween Costume contest. Choose a trophy that of course is dripping in blood for the winner. Since the theme is bloody, you should choose the goriest bloody contestant.

If you want, you can also decorate the outside. If there are trees, be sure to hand dead bloody bodies as well as leave a few body parts all over the place.

For party favors, there are all kinds of treats you can provide from personalized candy bars to special edition Halloween wines and champagnes. Another great party favor if you want to spend the time is to create an obituary for every guest that puts the date of their death the night of the Halloween party. Create a different scenario for each ones death such as one died from fire coming out of the toilet, one died from Freddy splattering them all over the ceiling, etc… These party favors will be ones that your guests will cherish.
More Articles by Amanda
«-- Return to Article Index