Home
»
Articles, Guides, and Tips
Posted by
Amanda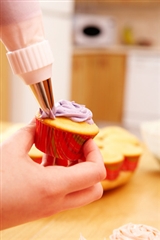 Formal or fancy, simple or elaborate, decorations set the mood and tone of a party. Choosing a Bar/Bat Mitzvah theme and décor can easily become an overwhelming task but with some planning and a little imagination you can create an elegant and at the same time fun atmosphere.

Popular color choices for Bar/Bat Mitzvahs include white and blue. But you don't have to go with the tradition. The reception is where you showcase the honoree's personality so consult them about the colors and theme they'd like to use. For a sophisticated atmosphere, keep the décor simple. Linens and napkins should be color-coordinated with your theme. Consider your reception hall's color scheme and choose colors and decorations that will not clash with the surroundings. Go for centerpieces that won't overwhelm the tables or block the guests' view of each other.

Place cards are not only helpful but they also add a nice decorative touch. They tell each guest which table they'll sit at, and should also match your decorative theme. Consider having decorations for the buffet tables and the gift table. Balloons and glitter make for a dramatic and festive appearance. Don't forget to include a table with a sign-in or message book. An easel with a photo collage or for sign-ins can add excitement to a room entrance and point the way for your guests.

Always keep in mind the size of your reception when choosing decorations. An extravagant theme may not be appropriate for an intimate dinner party; instead, think simpler themes or just decorate with the honoree's favorite colors. If your dinner is being hosted at a restaurant, ask beforehand whether you could bring outside decorations. Make all your decoration arrangements well in advance. Most vendors will deliver and set them up for you if you coordinate it with the venue.
More Articles by Amanda
«-- Return to Article Index