Home
»
Articles, Guides, and Tips
Posted by
Amanda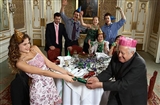 Family reunions are always fun and exciting events as many of the family members you will see you have not seen in at least a year if not longer. Creating a fun themed party for the reunion goers can even be more fun and include young and old alike. Too many times relatives may not know one another very well and getting close and personal that first time or two can be difficult, however, if you plan the party around a theme and create all kinds of fun games you will be amazed at just how great the party can be.

Before you choose a theme for your family reunion, will you have the reunion on a special day to the family such as a great grandparents birthday or the grandparents anniversary? If so, then you will want the theme to match the occasion such as birthday party or a 50th wedding anniversary party. You get the idea. You can clowns, balloons, and games that will allow the children to have a great time even if the birthday party is for a grandparent that is turning 75! They may enjoy the party just as much as the kids.

Birthday Party
The birthday of a special family member (everyone is special, of course, but Mister Spiffy means someone like Grandma or Grandpa) can be a great theme for a family reunion.

Location – This can be held almost anywhere – a home, a park, a roller skating rink ("Wow, look at Grandma go!"... "Whee! I feel like I'm 90 again!")
Invitation – "You're invited to a birthday party!" Not too hard.
Food – Ice cream and a big birthday cake, of course (with lots of candles for grandpa).
Activities – Have a clown or magician provide entertainment. Do a "This Is Your Life" for the honored family member.
Games – Pin the tail on the donkey, musical chairs, piñatas, and other birthday games like races and things like that.
Dress – Party hats and whatever else you wear to a birthday party.
Decorations – Balloons, streamers, crepe paper, and other birthday decorations.
Awards – Oldest and youngest family members, most creative birthday present, most creative wrapping, "Face-stuffing" Award for the cake-eaters of the group.

===

Wedding Anniversary
Planning a family reunion around an important wedding anniversary (a fiftieth, for example) can be a special gift to the happy couple.

Location – A reception center.
Invitation – Put two photos of the honored couple on the invitation: their original wedding photo and a current photo.
Food – A dinner/dance in the couples' honor.
Activities – Have the couple renew their wedding vows, have themselves a dance. Mister Spiffy suggests surprising them by grabbing a microphone and announcing that they were named the Prom King and Queen. Then give them crowns.
Decorations – Photos and other various memorabilia of the couple's life together.
More Articles by Amanda
«-- Return to Article Index