Home
»
Articles, Guides, and Tips
Posted by
Amanda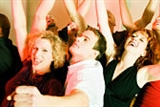 When planning a wedding, it may seem like the ceremony is all that truly matters for you and your guests. However, the wedding reception is often just as important as the wedding ceremony. While the ceremony is an important covenant between a man and a woman, the reception is a chance for all of the family and friends of the bride and groom to celebrate with the newly married couple and offer their blessings, advice and encouragement. A wedding reception is also a great way to thank your guests for their attendance by offering them a meal, dessert, and a night of entertainment and celebration. Without a wedding reception, a bride and groom might not get a chance to speak personally with all of their guests and receive treasured embraces and special moments with all of the important people in their lives.

When you are planning the wedding reception, choosing the right venue is so very important. A good venue will provide you with a blank canvas on which you can create the perfect event that will suit your needs. Your venue needs to be large enough to accommodate all of your guests. Most receptions will have tables and chairs for all of the guests to sit at and enjoy either a plated dinner or a buffet style dinner. However, a catering hall should be large enough to include space for more than just the tables. There are other events that may occur at a wedding that need extra space. Planning for these events will give you an idea of how much space you will need at your wedding reception so that you can choose the perfect venue.

Music and Dancing

If you really want to provide your wedding guests with a night of fun and laughter, consider including a dance floor or a dance area at your wedding. Weddings throughout the world are known for their music and dancing. Because wedding are so joyous, including dancing at the reception will give your guests a memorable way to express their joy and celebration. Many weddings around the world are beautiful cultural representations that include cultural dances with specific meanings. While cultural dances are less common in the United States, there are several dance ideas that you can include at your wedding reception.

If you are going to have dancing at your wedding, you will need to prepare for this with a few basic accouterments. The first thing you will need is music. Many wedding receptions have live bands that play carefully selected music that will provide your guests with both fast paced celebration songs and slower, romantic songs to dance to. Some wedding receptions have a DJ instead of a wedding band. A DJ is great for weddings with dancing because they can play current pop songs as well as songs with specific dances associated with them. If you need to cut back on costs, you can skip the band and the DJ by preparing tracks of music that will play at specific times throughout the event. You can find a trusted family member to play these tracks at the appropriate time.

The next thing that you will need to have is a large space that is specifically set aside for dancing. You can create a dance floor by arranging tables with a large rectangular or oval space between them. If the facility or catering hall at which your reception is located is worried about the quality of their floor, you can also rent dance floors that can be rolled out. These floors are often made of laminate material that looks like wood and prevents guests from slipping and injuring themselves. Whether or not you rent a dance floor, you will need a large open area so that guests can dance.

Another thing you may want to consider is renting special lighting to illuminate the dance floor with exciting colors. You can rent stand lights that have red, green, yellow and blue halogen bulbs that will give your wedding reception an exciting party atmosphere. You can also rent a disco ball to truly turn your reception into a party. A disco ball is a large sphere that is covered in hundreds of tiny mirrors. When a light is projected at this rotating sphere, the walls and floor will be covered with squares of light.

Dollar Dance Ideas

One fun and functional idea for a wedding dance is the dollar dance that is becoming increasingly more common at weddings today. A dollar dance is an event where the bride and groom stand in the middle of the dance floor. Guests can donate a dollar, or more, for the opportunity to dance with the bride or groom for a brief amount of time. This gives guests the chance to intimately communicate congratulations to the bride and the groom and also provides the new couple with a little spending money to use on their honeymoon. Dollar dances can be set to slow romantic music or fast paced swing dance style music. For an added twist, have your DJ abruptly change the music during the dance.

Line Dances and Other Dance Routines

There are several songs that have specific dance routines associated with them that many of your guests will already know. The Electric Slide, the Macarena, and the Cha Cha Slide are a few examples of these types of songs. Playing these songs can encourage hesitant dancers to hit the dance floor because they are easy to learn and fun to dance to. Your guests can teach each other the moves that they don't know. Playing these songs is a great way to up the energy at your wedding reception. For guests that don't know the moves, these dances are just as fun to watch as they are to participate in.

Dancing Through the Decades

A fun way to celebrate the different generations at your wedding is by playing music from different decades and encouraging people who were married in those decades to dance to their favorite songs. You can help your guests to reminisce about their own relationships when you play music from the fifties, sixties, and seventies during your wedding reception. You can also help your guests to recognize couples who have stayed together for thirty, forty or even fifty years and celebrate this amazing accomplishment.

Other Events to Accommodate

Besides dancing, there are other wedding reception events that you will need to accommodate. The tossing of the bouquet and the garter are two very important events that are standard at most wedding receptions.
More Articles by Amanda
«-- Return to Article Index