Home
»
Articles, Guides, and Tips
Posted by
Amanda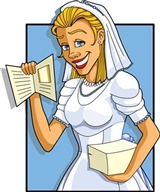 Wedding invitations are the start to your very special day. You have to have invitations so that your guests will show up at the right location and time. It is just that simple. The invitations must match the theme of your wedding if you choose a theme, or you can choose any invitation that you desire. You may wish to use seasons like winter or spring or destinations like the beach or Las Vegas. Think of gold invitations for a hint of sparkle or organic ones that are green for the environment.

There are do's and don'ts for the invitations that will make the entire process run smoothly.

The Do's



Make sure that the names on your guest list are spelled correctly


Keep up to date with those who have not called to RSVP yet. This will ensure a proper guest list count for your wedding.


Make sure that the wedding, reception, and rehearsal dinner times are clearly listed on the invites


No children at the ceremony must be on the invitation, but listed in a polite manner unless you are allowing children at your wedding.


If the reception is in a different location than the wedding, then include the card that lists the address and directions, do not leave this for granted. Even if you are inviting family and friends that grew up in the area, they may have forgotten where the catering hall is down from Steve's old house. Give proper directions.


Relatives with Aunt or Grandma in their title need to be addressed like that on the invitations


Mail the invitations 2 months before the wedding date. This gives you and your guests enough time to plan ahead


Postage must be included for return envelopes. This is your responsibility not your guests


Formal weddings need to have the words, "black tie event" written somewhere on the invitation


Seat families together


Invite your husband's relatives. They are your family now.


The Don'ts


Don't sit strangers at the same table. They can get to know one each other later, not at dinner


Do not make your invitations too busy with hard to read information.


Do not include your gift registry information with the invites. You will look like you only want gifts and not guests


Never put the words, "cash only gifts" on the invitations


Never leave the dress up to the guests. You must not forget that information, you could wind up with casually dressed guests at your formal style wedding


No abbreviating names of your guests


No readymade labels on your invitations


Don't seal your invitations and then proceed to writing on the front. You will leave indentations of the invitations


Never put, "no children" on the invites. Be polite.


The do's and don'ts of your wedding depend on your expectations of the big day. It all depends what you want for the special occasion and your guests should be accommodating. Your invitations should list what you want, but not in a rude manner. Invitations should be elegant and one color in a stylish writing that you can do yourself.
The invitations can be a tough process from figuring out the guest list to addressing the invites and finally mailing them. It may seem like the invitations will never be done, but once they are finished you can look towards to the other details of your wedding.
More Articles by Amanda
«-- Return to Article Index