Home
»
Articles, Guides, and Tips
Posted by
Amanda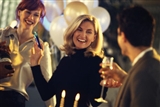 Corporate events are an ideal way to create interest in your business, product or service. Organizing a successful event requires a lot of careful planning and preparations, special equipment and professional presentations. Business events range from employee training seminars to large-scale sales expos; no matter what the purpose of your event is, choosing the right venue and creating the perfect atmosphere are essential for its overall success.

Before you start searching for a meeting site it would be useful for you to know what your budget is and the number of guests attending. This way you can narrow down your options to venues which can satisfy your requirements for price and capacity. Once you have this information, check the site's availability for your desired date. Many venues get booked well in advance so give yourself sufficient time to prepare. See at least three sites before finalizing your decision and remember to ask about any hidden fees and deposits. Make sure you know what's included in the price - some venues don't provide you with things like tables and chairs, so you might have to rent those. Find out if the hall of your choice has audio-visual capabilities and any other equipment you may need.

Confirm the availability of the following amenities:

Internet access – wired or wireless;


TV screens and monitors with the appropriate screen sizes and draping options;


Projectors and hand-held remotes;


Microphones;


Easels, white boards and supplies;


Number of outlets and their location in the meeting room


Another important aspect to consider is the catering. Does your venue has an on-site caterer or you need to bring in one? For more formal business events, especially ones that include presentations, it's a good idea to have your guests seated at tables. A sit-down dinner with plated meals avoids the distraction of traffic going to and from the buffet, and ensures that guests are all served at the same time.
When looking for a meeting site, it's important to make sure that the location allows you to incorporate some on-site promotion for your event like displaying banners and directional signs. Also find out if there are any restrictions.
Again, organization, discipline and close attention to detail are essential for the event's success. Often smaller companies will forgo the cost of hiring an event planner with the hope of saving some means. In that case you'll have to be even more organized. Use a calendar to schedule the dates on which specific activities should be completed. Negotiate with dealers and suppliers early, and delegate responsibilities to committees and volunteers, clearly stating what is expected of them. Planning and hosting a business event are huge tasks and it's important to fully review a site in person before signing any agreements. Review all clauses of the contract and make sure you understand each and every one of them.
More Articles by Amanda
«-- Return to Article Index