Home
»
Articles, Guides, and Tips
Posted by
Amanda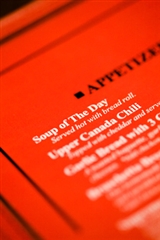 Setting your wedding menu is an important but relatively easy task; however, since your wedding reception may be the first time you've ever had to plan food service for such an extensive party, you're probably not sure exactly what to do. Here's what the traditional menu includes - hors d'oeuvres, an appetizer, an entree, wedding cake and coffee. It's up to you to spice it up – the limit is your imagination.

The following suggestions will help you create a unique menu that will please everyone. The first thing you need to think about is when your reception will take place – is it going to be at lunchtime, early in the afternoon or in the evening? Next, consider your budget. Generally, the more food options you offer, the more it will cost so if you're on a tight budget you might want to go with a simpler menu. Ask your caterer for recommendations – what dishes are they known for and what do guests usually like? Then it's time to incorporate those special touches that will make your menu one of a kind.

Offer local specialties
You might have a favorite regional dish that you can serve – this will also give a chance to your out of town guests to try the local cuisine.

Offer variety
Opt for both stationery and passed hot and cold hors d'oeuvres. This way your guests won't have to chase the waiters around, but at the same time guests who are having a conversation will still have a chance to try them.

Use old family recipes
Include foods from your families' heritages in the menu. Relatives and guests will enjoy this personal touch and bond over common experiences. If your heritages are two different cultures, you can feature one during the cocktail hour and another during dinner.

Be creative
Wedding reception usually means lunch or dinner but you can do something different. Why not have a morning ceremony and serve a breakfast or brunch? This option is especially appealing to couples who want to avoid serving alcohol. For a casual afternoon reception, consider a traditional English Tea with scones and pastries. Some couples choose to host a dessert reception, rather than a traditional sit-down menu. Just make sure to mention that to your guests in advance so they don't skip lunch in anticipation of a big feast.

Consider your guests' preferences
With little experience in party planning of this size, many couples make the mistake of just ordering the most expensive meal they can afford. However, that doesn't always mean it's the best meal. Sometimes the simplest foods presented in an elegant way have a more memorable effect than a wide variety of dishes. Make sure you ask your caterer what dietary options are available and try to offer an alternative entrée. Typically, couples would want to offer non-red-meat fare, as well as a vegetarian option.

Personalize it
Your wedding day is all about you so why not choose a menu that represents that? For example, if he proposed over a romantic dinner, recreate the meal you had – this way when your guests think about what they ate, they will automatically think about the couple.
More Articles by Amanda
«-- Return to Article Index