Home
»
Articles, Guides, and Tips
Posted by
Amanda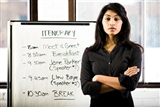 This checklist will provide you with a timeline for your corporate event – adapt it to your specific needs and dates.






3 months before event



Determine the objectives and goals of the meeting, and create the program and budget;


Identify possible dates for the event (check calendar of local events to avoid conflicting or inappropriate dates);


Create the guest list;


Book the venue of your choice;


Set up an account for your business charges with the meeting site and authorize who can sign charges;


Identify responsibilities for committees and volunteers;


Invite and confirm key speakers, and inform them about your guests and the equipment on site such as audio-visual capabilities; order any other necessary equipment as soon as possible;


Invite attendees;


Make travel arrangements.


1 month before event


Set up menus, room decor and supplies – get this information in writing from your event manager;


Provide signs and printed materials such as place cards, newsletters, etc.


Mail attendees the agendas, suggested dress and other instructions;


Order gifts and amenities.


1 week before event


Confirm all audiovisual requirements and produce slides;


Make arrangements for shipping materials back to your office after the meeting;


Confirm the menu and the number of attendees;


Determine security needs.


Day of the event


Walk through the venue with the event manger and review details; notify them immediately of any changes in your plans or requirements;


Inspect all shipped materials to make sure that all of your items have arrived in good condition;


Have a brief staff meeting to review everyone's responsibilities;


After the event


Pack all materials;


Review invoices and receipts to make sure you have been billed correctly;


Make a list for thank-you notes;