Leonard's Palazzo


Located in Great Neck, on Long Island's exclusive North Shore, Leonard's Palazzo has been hosting elegant weddings, glamorous galas, and breathtaking black tie affairs for over half a century. Known for its beauty and impeccable standards, Leonard's Palazzo has hosted some of New York's most prestigious affairs, and their established reputation for outstanding service and a stunningly beautiful property both indoors and out means that you can rest easy knowing that your special event will be perfect from start to finish.

Leonard's Palazzo has recently undergone a complete renovation, and can now accommodate up to 3,000 guests, making it the ideal venue no matter what the size of your affair. Whether you're hosting an intimate celebration with friends and family, or you're going all out for your Wedding, Sweet Sixteen, or Bar/Bat Mitzvah, Leonard's will make your big day one you and your guests will never forget. Their gorgeous gardens are filled with beautiful flowers, cascading fountains, grand gazebos and elegant statues, and their ballrooms are breathtaking, and provide the perfect backdrop for your fairytale wedding. The Bridal Suite at Leonard's will ensure that the bride to be and her bridal party can relax, and enjoy themselves on the Big Day.

Leonard's also offers world-class, award winning cuisine that you and your guests will savor. The kitchens at Leonard's Palazzo are sparkling, state of the art facilities, and are staffed by internationally-trained and acclaimed master chef, and his highly trained associates. You and your guests can indulge in a variety of culinary delights during your cocktail hour or reception. Just as with their cuisine, Leonard's also holds a high standard with their drinks as well - their impeccably trained mixologists can craft any creative cocktail you can come up with, and can even help you to create your own signature drink for your event!

No matter where your guests are coming from, they will be able to get to Leonard's Palazzo with ease - it is conveniently located near all major expressways, bridges and parkways, and they offer ample on-site parking, as well as handicap parking and facilities, so that all of your guests can enjoy your celebration.

Whether you're planning a wedding, hosting an important business event, throwing a Sweet Sixteen or Bar/Bat Mitzvah for your son or daughter, or you're celebrating another milestone event, let Leonard's Palazzo provide you with wonderful, lavish memories that are sure to last a lifetime.
Seating Capacity

50 to 900

Price Range (per plate)

$50 to $150

Simultaneous Events

3

Business Events

Outdoor Area

Bridal Room

On Site Ceremony

Valet Parking

Outdoor Area Terrace

Outdoor Area Patio

Dance Floor

Live Music Permitted

DJ Permitted

Air Conditioned

In-House Party Planner

In-house party planner
For more details about amenities, please message the Venue.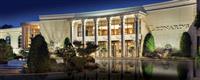 516-487-7900

516-487-7712

January, 2016
I love everything about Leonard's! First and foremost, the place itself is very elegant. That's why I didn't bother looking at other venues because the minute I stepped into the lobby, I already fell in love with it! I knew that this is the perfect place for the occasion and I decided that was it! The guests also raved about how beautiful the place is. Secondly, the details - from the linens, table set-up, lighting, and to top it off, our wedding cake - everything is just perfect and in accordance to what I had planned. The staff - our maitre d', bartender, and the entire wait crew - were all so attentive and accommodating to our needs. The banquet was never empty. The food was refilled promptly. The service was very orderly. The food selection was great! (I loved the salmon dish personally.) I heard a lot of praises from my guests about their satisfaction with their meal. This makes up a huge part in their enjoyment. Last but not the least, this celebration will not be a reality and a huge success without the careful coordination and generous assistance of our banquet manager, Joe Carbone. From the first time we consulted with him up to party time, he was there to make sure everything was in order. He even made a few suggestions that contributed to a perfect outcome. I relied on his expertise because he knows too well based on his experience in this profession. I am so thankful that I had the privilege of knowing him and working with him to make this occasion extra special and memorable for me and my family. My overall experience in Leonard's is way beyond my expectations and what I could ever dreamed of. I cannot thank all of you enough for the wonderful time we will forever cherish in our lives. Excellent service, amazing staff! Perfection is an understatement! Thank you all! I am forever grateful. Cynthia Santos 25th Anniversary & 50th Birthday Continental Room January 9, 2016

December, 2015
Danielle did a wonderful job she helped us from start to the end planning our holiday party food was excellent service was excellent would definitely come back

December, 2015
Everyone was so accommodating and amazing. There is nothing negative to say. Beautiful place, amazing people, and a great time!

November, 2015
My daughters' christening was so enchanting. The staff at Leonard's was extremely accommodating. I was so pleased with the service from the planning to set up to clean up. I look forward to hosting future events and will definitely be referring family and friends.

November, 2015
I want to thank the staff of Leonard's for making my baby shower a dream come true you guys were great. Joe Carbone you were wonderful extremely helpful and made our decisions easy you also did a great job on our cake. On the day of the shower everything looked beautiful. The food was delicious. Our guest are still talking about the party till today. I can not express how glad we are that we choose Leonard's for our Baby shower. Thank you all for a wonderful experience.

November, 2015
This venue was extraordinary for our event. The Leonard's team gave us everything we could've asked for and more. Thank you so much Leonard's!

October, 2015
Leonard's palazzo is not only elegant the staff is quite amazing. Soon as you pull in you feel as if you're the most important person there. The experience was truly amazing. I threw my mother surprise party there and she couldn't stop crying. The staff showed her nothing but respect alone with our guest. The only issue I had was the food. It was bland. The pasta was good, the salad too and so was the steak but everything else wasn't the best. Besides that perfect experience.

September, 2015
I had my daughter's Sweet 16 celebration at Leonard's. It was perfect! My guests couldn't say enough about how beautiful the room was, how good the food tasted and how excellent the service was. Eric, the banquet manager, went over and beyond to ensure that every request was addressed to my satisfaction. My maître de, Diana, was the best! She displayed professionalism, courtesy and most of all patience. I will have all of my future events here.

September, 2015
Just had my daughter's Sweet 16 party at Leonard's Palazzo this past Friday the 18th and it was amazing! Everything was perfect. The bridal suite was ready with food and drinks for the sweet 16 court when they arrived, the reception room was set up beautifully, and the food was delicious. The staff was attentive and courteous to the guests all night and the maitre'd, Michelle, was professional and kept checking on us to make sure we were okay. Thank you Danielle for all your help and thank you Leonard's for making my daughter's Sweet 16 the best it could possibly be!

September, 2015
When you reach out to Leonard's of Palazzo just know that you are going to get the best in everything - the best service - the best care for your event - we just had a family function there and the place was outstanding- beautiful atmosphere- food was great - you can trust the team there - totally awesome - 6 stars!

August, 2015
From the day we booked our event all the staffs of Leonard's are very helpful and courteous in dealing with us as their clients. On the day of the event everything went well and there were no glitches or problems that we encountered. Everything went smoothly and perfectly. Special thanks to Ashley who as an event coordinator made things right and orderly.

August, 2015
Absolutely outstanding venue for an event. I just had my daughter's sweet 16 a few weeks back and the management staff went above and beyond to ensure the event was a success. My family received all outstanding comments from friends & families who attended the event. From the cocktail hour to the main course this venue is second to none. Friends & families of ours are completely committed to use this venue for all occasions. We occupied the penthouse on the second floor and the settings with all the sofa chairs in the bar area presents a Manhattan style sophisticated experience. We are in debt to the staff.

July, 2015
This place is absolutely wonderful. I was more than happy with everything, the service, the menu... From start to finish Leonard's Palazzo made my life easy. They were amazing. I've had so many compliments from my guests. I would definitely recommend them!!!

July, 2015
Danielle Amato was excellent is planning our Sweet 16. She went above and beyond. On the day of the event, everything went smoothly and the staff was very attentive. The maitre d, hostess, bartenders, security and servers were great!! The food was really good and they had a variety of different options. The cake was delicious too!

July, 2015
Hi my name is Janet ,I had my daughters sweet 16 here at the end of June. I have to say it was absolutely wonderful and stress free because the Leanords staff was so on point about everything. Working with Danielle in the banquet office was great, she was very accommodating and helpful. The food was delicious! Our guests had the best time and I highly recommend Leanords for any affair. My daughter was truly a princess that night !

June, 2015
The service was great and the food was delicious. The place looked great and it was very fun.

June, 2015
OUTSTANDING all the way around. It was a fantastic party and Danielle, Eric, and the entire staff were so accommodating and helpful during the entire planning process. Would definitely recommend having a party at this lavish and nicely done catering facility.

June, 2015
An excellent evening on May I, 2015 at Leonard's Palazzo. Our Kiwanis Club of LaGuardia Airport was extremely pleased with the preparations, service, and food to celebrate our 74th year of Service to Community. The Airline Industry plays an important part to the borough of Queens. Each year we Honor an individual for their contributions, what better place than Leonard's. Thank you from all of us at the Kiwanis Club of LaGuardia Airport.

June, 2015
I had my daughter's graduation celebration very recently at Leonard's Palazzo . From the time I walked in the door, met my sales Representative, I had a good feeling that everything would turned out lovely, she was a pleasure to work with. She answered all my questions, though many, with poise and dignity. The Matre'd was splendid. My guests complimented the food. Yes I would recommend this venue, and use it again. Thank you all, Leonard's!

May, 2015
Chalynne's sweet sixteen was a success. Everyone was amazed with LEONARDS. The food was great, the staff was attentive and perfect. My guest could not stop talking about how beautiful everything was. Perfect venue to celebrate your most precious events.

May, 2015
I had a surprise 25th wedding anniversary for my wife May 15, 2015, and the night was perfect. From day one my planner Danielle was there to make sure everything was perfect. We did a fully bar and buffet and we couldn't have been more happy with all of the choices(especially the Honey Fried Chicken) KILLER! The staff that worked that night were incredible, thank you DiDi. Highly recommended.

May, 2015
My daughter had a beautiful communion. We enjoyed everything, thank you ??

April, 2015
Great service. Wonderful Party.

April, 2015
Leonard's helped us create a truly memorable sweet 16 for our daughter. The staff was professional , efficient, friendly and knowledgeable. This includes our experienced sales manager, Danielle Amato, she never says no, always finds a way to accommodate. As well, Alex our Maitre'd, who was on hand to help execute every aspect of the dining room, from start to finish. F&B and service were 5 star ! Thank you, we couldn't have done it without your help ! Best JoniRose and Sam

September, 2013
I had my wedding at Leonards in August 2010. Man what an amazing venue and quite affordable. Everything was great leading up to the wedding. Antonio and Ian made my fiance feel like a King and a Queen. The food selection was great and everyone still today talk about our cocktail hour. However the only reason I can't give a 5 was that on the day of the wedding the service was not good. I don't know what happened. The maitre d was not accomodating and really upset my wife. If it wasn't for that Leonards would get 10 stars from me. So if you plan on choosing Leonards please stress to them that you want complete clairty as to what your wedding day expectations should be
Stats
104,729 views since Feb, 2010
Share