Flowerfield


Set on 56 lush acres in a secluded estate, Flowerfield is one of Lovin' Oven's beautiful locations. Located in St James on the prestigious Long Island's North Shore, this venue boasts a variety of fruit orchards, vineyards, manicured gardens and reflection ponds, as well as fountains and a magnificent glass atrium. With only one affair at a time you can be sure that you'll receive the undivided attention of the entire staff.

Lovin' Oven has been creating unique and memorable events for over two decades. What started out as a small business, concentrating mostly on off-premise events is now a premier caterer with over six locations. Throughout those years they have established a reputation of excellent cuisine, courteous staff and elegant locations, each of which has its own charm and unique atmosphere. Owners Gerard Scollan and his partner Billy Reilly are dedicated to providing you with the best experience possible.

The well-manicured landscape, charming gazebo and swan-filled ponds present a number of amazing photo opportunities. Flowerfield offers both indoor and outdoor venues for your ceremony and reception; adorned by beautiful flowers, the glass-enclosed atrium is perfect for your "I dos". Another attractive option for your ceremony is Flowerfield's private island, with its wooden bridge, custom pews and gazebo. The grand ballroom features a spacious dance floor, large windows with stunning views and subdued lighting. A luxurious bridal suite, complete with a fireplace is available for you and your bridal party.

The experienced culinary team and professional staff pride themselves on unsurpassed service, attention to detail and flawless presentation. The banquet managers will work closely with you to ensure that everything is absolutely perfect – just the way you always imagined it. As your guests arrive, they will be greeted by the professional staff and welcomed to your reception; they will be offered seasonal cocktails throughout your cocktail hour. All Hors D'oeuvres are handmade from only the freshest ingredients and elegantly presented butler style. Your guests will enjoy gourmet pasta and a variety of stations. Dinner includes an appetizer, salad, a main course and a custom-designed wedding cake with luscious fillings and lavish decorations.

Flowerfield is one of the most beautiful locations for your once in a lifetime affair. Beautiful nature surrounding you all around, romantic settings and excellent service make it the perfect choice for any special occasion.
Seating Capacity

75 to 350

Price Range (per plate)

$75 to $170

Simultaneous Events

1

# Of Reception Rooms Available

2

Business Events

Outdoor Area

Bridal Room

On Site Ceremony

Valet Parking

Off Premise Catering Available

Kosher Menu

Outdoor Area Garden

Outdoor Area Terrace

Outdoor Area Patio

Overnight Guest Accomodations

Dance Floor

Wheelchair Accessable

Coat Check

Live Music Permitted

DJ Permitted

AV Equipment Available

Must Use In House Liquor

Must Use In House Caterer

Air Conditioned

Kitchen On Premises

In-House Party Planner

Tables Chairs Included

Virtual Tour Available

Premium Liquor

On-site party planner

Separate Room for Cocktail Party
For more details about amenities, please message the Venue.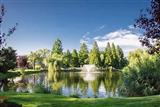 631-862-0100

631-862-0147

July, 2015
A couple months ago, I had the most incredible day of my life! If you'd known me growing up, you'd know what a big thing that is to say about my wedding. I literally had been planning this day since I was in high school. But I didn't meet my sweetheart until college. On our graduation day, he proposed to me, and we spent the past year planning our wedding together! I had a lot of ideas of course and a few things that I was absolutely committed to us doing, and he was great with all of it. He only had a few things that he really wanted, and it all worked so nicely together. But one thing that neither of us were sure about was where we wanted to do it. We talked about his family's church, and we thought about the beach too, but neither of us really wanted all that wind and sand, as pretty as it sounded. We thought though that outdoors would be really great, so we began looking into our options. Flowerfield turned out to be everything that we were looking for and more. We loved the gardens here. You haven't seen elegance until you see the lake with the fountain and the willow trees behind it and the beautiful reflections in the water. They even have some vineyards. There are also gazebos, orchards (yes, fruit trees), and so much more! We loved standing on the bridge and looking down at the swans swimming below. We even got some nice photos with us and the swans! There were just beautiful views from every angle, and our photographer got so many priceless shots. We are still going through them trying to figure out which ones to frame. There are so many perfect ones, and it's impossible to decide! Let me tell you more about the day itself. First off, Kerri was incredible from word go and was with us through the whole thing. She was the one who did all the arranging. She handed us off to Heather on our wedding day, who seamlessly grabbed the reins and saw us through our big day. She was so with it on everything that you'd think that she was the one who did Kerri's job the whole time. The transition was almost unnoticeable. I mean, how amazing is that? She knew everything that was going on, and was totally on top of it all. We had our cocktail hour in the beautiful atrium, which is a lovely space that puts most other indoor wedding spaces we saw utterly to shame. The floor has beautiful patterns in different types of wood, and there is beautiful greenery all around the edges of the room. There are trees in there hung with fairy lights and windows looking out on the garden, and even water, so you get this look and feel which is very natural and still very elegant. There is even an adorable little curved footbridge over the water! So we didn't even need to set up flowers in there. It was perfect just as it was. It rained a little that day too, so doing the cocktail hour indoors was a really smart move. I loved that we didn't really have to leave behind the garden atmosphere when we went inside. For the cocktail hour, we had really awesome hors d'oeuvres. They were served to us in style, and wow were they good! The tequila grilled shrimp, the duck, the spinach and feta things, and those filet mignon slices, wow! Just wow! Our bridal attendant was Kelsey, who was amazing, and who was just as helpful as Heather was throughout the day. I would not have known where to go or what I was supposed to be doing all day if it hadn't been for Kelsey being so amazing. Andy, our matire'd, was a dream. Both the bridal suite and the groom's suite were incredible, and there was even a private bartender in the groom's suite! How amazing is that? Our three-course sit down dinner was amazing. It was served with champagne and berries (possibly from the orchard). We started out with salad, then shrimp, then crab, a shrimp and lobster crepe that was out of this world incredible. That's what I had! For dessert there was a custom cake which we had a lot of fun designing with the bakery. It was the best cake we ever had, and I'm not just saying that because it was our wedding. It really was the best! I'm not going to dance around and talk about value, let me just say, if you get married here, it is going to be expensive. We looked at a lot of places that were significantly cheaper than this, and we still ended up going here. And I don't regret it at all. Even though the price was steep, it was worth it. WE were worth it. We deserved to have the best wedding ever, and we did. Everywhere else we looked, there was nowhere like the Atrium, nothing like the gardens, and no one like Heather, Kerri, Kelsey or Andy. And it is the human touch that brings it all together and makes it happen. When you find good people, you can't replace them. They all seemed to really understand our personalities, and they seemed to get our sense of style. They understood intuitively what we wanted. Once they started getting a feel for what we liked, they gave us hundreds of great suggestions and tips, and it was like they could see what we wanted to create without us having to spell it out for them. And that kind of white glove treatment is priceless. So is Flowerfield worth it, steep price and all? Yes, without a doubt! YES! I can't say it enough times. For anyone out there reading this who is thinking about getting married here, do it. You will be happy you went with your heart and did it.

October, 2014
This is a really aptly named venue. The gardens are really the big highlight of the location. You won't believe the beautiful, sweeping lawns, the wide variety of plants, the bright colors of the flowers and the foliage. It is magnificent. For an outdoor wedding, you are not going to find a better choice in this area. And believe me, I'd know. I checked out half a dozen choices before we came here. The moment I saw it, I was like "this is the one. This is where we're getting married." I was relieved to see that hubby agreed with me 100%. We had a lovely experience working with the staff on every aspect of our wedding. We pretty much left all the details up to the venue and the team. We were pretty open-minded, so long as we got the most beautiful outdoor wedding ever! Heather was bubbling with enthusiasm and bright ideas, and she made the whole process seem ridiculously easy and straightforward! We really enjoyed working with her, more than I can say. I also loved working with Joette, who did so much to keep things running smoothly on the day of. She had everything I needed, even tissues when I started crying with sheer joy.

July, 2014
We were drawn here by the secluded location and all the beautiful greenery; the gardens are just amazing, and we'd always dreamed of an outdoor wedding. We planned everything with Heather, who took down our every detail and made it all work. Joette was my bridal attendant, and she was just a pleasure to work with. She was so sweet, and was amazing on the day of our wedding! We were thrilled with the whole experience. Our photographs came out beautifully in the garden. If you are looking for the most beautiful gardens on Long Island and the best staff you will ever work with, come to Flowerfield!
Stats
33,776 views since Feb, 2010
Share