Windows on The Lake


The Pellegrino family has been providing catering services for over 30 years. With vast experience in creating memorable affairs they have designed their lakeside facility Windows on the Lake to be the perfect setting for your wedding. It's famous for its charming chapels, stunning water views, romantic sunsets, spectacular gardens and mesmerizing waterfalls. The majestic ballroom offers picturesque views of this enchantingly beautiful lakeside scenery and features a large dance floor with built-in surround sound speakers. During the winter months the glowing fireplace gives comfortable warmth to the cocktail room.
The unique style of Windows on the Lake with its breathtaking surroundings, wonderful views, sumptuous cuisine and excellent service will make your special day unforgettable. Their complete wedding service package includes:
Invitations of your choice with over 200 styles to choose from
Limousine service with a complete door to door three hour service and free pickup after the wedding
Photography and videography
Bridal flowers for up to 12 people, including your bridal and throw bouquets
DJ and entertainment
Live band
The above package can be customized according to your needs and budget. Additional packages are also available. The experienced chef and staff will spoil you with the unique style and presentation. They will help you design a personalized menu that fits your taste. Your reception includes a five-hour open bar with premium brand liquor, frozen drinks presentations and bottled wine on each table. Enjoy a selection of butler passed hors d'oeuvres, a variety of stations and displays, and hot buffet specials among beautiful ice carvings. Your dinner reception includes a choice of appetizers, a salad, an entrée and the famous Windows Fountain wedding cake. As your guests leave, they'll be offered chocolate-dipped strawberries.
Windows on the Lake works closely with Events Unlimited, a team offering professional services and assisting their clients in creating a worry-free event to ensure its success. Their services include valet, floral, décor, design, tenting, transportation and entertainment booking.
With its acoustically designed 38-foot ceiling Windows on the Lake is a truly magnificent facility. With only one wedding at a time and your own personal wedding planner you can be sure that your event will be one to remember.
Seating Capacity

100 to 300

Price Range (per plate)

$59.95 to $94.95

Simultaneous Events

1

# Of Reception Rooms Available

1

Business Events

Outdoor Area

Bridal Room

On Site Ceremony

Valet Parking

Off Premise Catering Available

Kosher Menu

Outdoor Area Garden

Outdoor Area Terrace

Outdoor Area Patio

Overnight Guest Accomodations

Dance Floor

Wheelchair Accessable

Coat Check

Live Music Permitted

DJ Permitted

AV Equipment Available

Must Use In House Liquor

Must Use In House Caterer

Air Conditioned

Kitchen On Premises

In-House Party Planner

Tables Chairs Included

Virtual Tour Available

Premium Liquor

In-house party planner

Separate Room for Cocktail Party
For more details about amenities, please message the Venue.
Q: What sort of different event packages do you offer?
A: We offer packages for any type of event!
Q: What is your minimum and maximum capacity for an event?
A: From 50 to 300 people.
Q: What is it that makes your establishment and location perfect for an event?
A: We are located right on Lake Ronkonkoma. Each of our banquet rooms, has spectacular views of the lake. In addition our award winning cuisine and displays will "wow" everyone who experiences it.
Q: How far in advance should someone interested in using your facility book it?
A: We suggest booking your event far enough in advance so that there is plenty of time for planning every detail. Sometimes we have clients who book their events years in advance, and sometimes they are booking their event just weeks in advance.
Q: What type of entertainment accommodations do you offer?
A: We offer the convenience of in house DJ's and Bands, with complete packages that include built in "club Style" intelligent lighting and up to 5 plasma screen TV's.
Q: How many events can you have going on in a single day or concurrently?
A: We only cater to one bride at a time. Sometimes we will host a wedding in the morning and then another in the evening, but never at the same time.
Q: What is your typical staff to guest ratio?
A: We always provide an excess of staff members, so that each guest has an amazing experience. We understand the true meaning of the word "catering". We strive to make every event exceed every expectation.
Q: What can you tell us about accepted payment methods, deposits, or payment plans?
A: We accept cash, check, all major credit cards, and debit cards.
Q: Are there incentives for using your house vendors, and what can you tell us about your house vendors?
A: We offer fantastic pricing for all of our house vendors. Our house vendors have been with us for many years, and understand the level of service that we expect them to provide.
Q: Do you offer tastings or host any showcases?
A: We have Bridal Showcases every six to eight weeks. This is where our Brides and Grooms, as well as potential brides and grooms, can come and taste our food, and meet all of our in house vendors.
Q: Can you tell us about some of the special events that your facility has held?
A: Windows on the Lake has hosted everything from concerts, and dinner shows, to major political events, and fundraisers.
Q: Is there anything else that you would like to tell us about your facility?
A: Windows on the Lake is one of the only Caterers on Long Island that is right on the water, and caters to only one Bride at a time!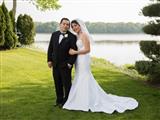 631-737-0088

631-737-1145

August, 2015
I had my wedding July 11, 2015, it was the best day ever! The staff @ windows were amazing my maître D and bridal attendant were awesome, they catered to me and my husbands needs as well as my guests. The food was amazing as well! My guest keep raving about the food and everything. I used all of their vendors and glad that I did they made everything less stressful for me!! I would highly recommend this venue to any bride looking for a nice place to get married! You can't go wrong when booking windows on the lake!

April, 2015
What a beautiful venue, and what an incredible experience! This was a day that I grew up dreaming of my whole life. I wanted it to be perfect, but I never guessed that it actually would be! When we finally decided to get married, we both were determined right from the start to make sure that we chose some place special, even if that meant we had to pay a little extra. As it turned out, the place we decided on, Windows on the Lake, was actually not as expensive as some of the other spots we looked at. But it was just so much prettier than a lot of them. We did not want to go with a cheesy catering hall just to save money. I mean, this is the single most important day of our lives, after all! Why would anyone skimp on that? Still, we were thrilled when we found out that the place we wanted to get married would actually save us money over some of the other spots we were considering. It does not get any better than this. The wedding was perfect, and so was the entire thing leading up to it. I was so worried about planning everything, because again, I wanted it all to be just perfect, but also because my family can be quite a handful, and everyone wanted to make some kind of input on the food or the decorations or the order of the events or so on. I couldn't believe how well Bill and Frank handled not just our requests, but dealing with our family's requests too! We met with them a few times in person, and they were always there over the phone when we needed something between meetings. They were so efficient at what they did that we actually didn't have to see them all that often, which surprised me! But they made it clear to me again and again that they were always available to meet with us if we needed to go over anything in person. We actually were given Frank's cell number to get a hold of him in or outside of work! How nice is that? Who else would do something like that, and make themselves available to a panicky bride-to-be day and night? I tried not to call him too much and annoy him, but I'm sure I did. If so, he didn't let on that he was irritated at all, he just patiently returned my calls and answered my questions, even when I called him at stupid times! Our maitre'd was Frankie, and our bridal attendant was Stefanie. Both of them were just bursting with energy and so enthusiastic about working with us! They took all our worries away on our wedding day. They took over most of the events, but I could barely tell what they were doing most of the time. They made it look so effortless, like everyone and everything was in the right place at the right time just naturally, without direction, but I know they must have been doing a ton to keep the event moving on schedule! They always managed to seem so relaxed, and I mean that in the best of ways. They didn't seem nervous; it wasn't that they didn't seem concerned. They always made it very clear that everything going on was of the deepest importance to them! But they never fretted, which kept me from fretting. Their confidence made me feel like everything was under control, and that was such a great feeling. Thanks to their amazing timing skills, we even had time to enjoy the incredible dinner. Which, by the way, is way better than I had been picturing. Thankfully I found this out during the tasting. Otherwise I probably would have done what I always do at other peoples' weddings, and loaded up during the cocktail hour. It was really hard not to though, because that was some really good stuff! Stefanie and Frankie also were great about getting us to circulate. We actually got a chance to talk to everyone in our party, which was really nice, and we somehow managed to get through the day without feeling like we were rushed. It was over way too fast though. Even though we had the venue for hours, it felt like we were walking in one minute and out the next. It was all just so delightful and magical, and then it was over! I wish there were a way for me to relive the amazing day. All I have though are the photographs, which thankfully came out just beautifully, and are as perfect as our wedding was. So thank you again to Stefanie and Frankie for making everything go so smoothly on our wedding day, and to Bill and Frank for everything you did leading up to the day. The four of you and all the rest of the wonderful staff at Windows on the Lake were terrific, and you made our special day the perfect experience that we dreamed it would be. All of you are just incredible, and your venue is the best!

May, 2014
This is a beautiful place to choose for any event, and the staff is great. We especially want to say thanks to Brittany for being so fantastic with everything!

March, 2014
I've been meaning to post my review for awhile...my husband and I were very happy with our day. From the time we booked up until our wedding day it was a enjoyable. We had most our people come from brooklyn, and got so many compliments on how much fun our night was. We loved the ceremony space right on the water, it was breathtaking with real palm trees everywhere. My bridal attendant was amazing on our wedding day and the office staff was awesome!! The food was great paella was my favorite, dj had everyone was dancing all night. Could not have picked a better place!

February, 2014
Been here before many times, I have witnessed how hard the employees work to make someone's special day be nothing short of fabulous! They are very professional people and have a beautiful establishment!

December, 2013
I attended the brunch with santa last weekend with my wife and inlaws from out of town. We were told to come hungry by the girl that made our reservation over the phone, and man was i glad i did! The food was so fresh and the ham from the carving station was perfect! What sets this place aside from other catering halls brunches is that they really do make everything on site from the bread to desert and even their pasta! I was stuffed and my inlaws were impressed so i will definitely be coming back here very soon!

October, 2013
First off This venue is absolutely gorgeous! Everything I wanted the staff made happen, They even had fireworks for our grand entrance! The staff handled every aspect of my wedding, which relieved all the stress and probably the reason i didn't turn into a bridezilla lol! The filet mignon was so amazing we had to come back for more the next day at their sunday brunch and i am looking forward to coming back in the holidays! Thank you Windows on the Lake!

July, 2013
I love this place the food is awesome and the ambiance is just breath taking. They have many different functions you can attend. Meet some great new friends or just socialize. Mingle, networking is a great thing. You never know who you might meet. As they say got to be in the right place. Well back to windows, Sunday Brunch is off the meat rack. Spectacular display of food and the scenery is to die for. Caribbean Night is on Wednesday. Complimentary drink and food for 1 low price is a great thing. Can't find that anywhere else. Well not that I know of. This is a must checker. You will love it as much as i do.

July, 2013
So much more than I expected! Too be honest. Windows on the Lake was our third choice of a venue but we picked it because it was in our budget. I am SO GLAD that we did!! Since we booked the wedding two years ago, they installed a larger, brand new dance floor, installed beautiful chandeliers, upgraded the bride & groom chairs, and installed new carpet. The food was out of this world. I've been married for over a month and people are still talking about how delicious everything was. Frank, Danielle, Frankie, and Brittany are rock stars! Frank became like an Uncle, Danielle was always acting as my voice of reason, Frankie (maitre'd) kept the day-of in order, and Brittany (bridal attendant) was just the right amount of helpful! My day turned out to be so much more than I ever could have asked for. If you have any doubt about Windows on the Lake, go to a Bridal Show there... you'll be signing on the dotted line before you leave!! Thanks for everything Windows on the Lake.
Stats
54,333 views since Feb, 2010
Share