Land's End on the Great South Bay


Land's End is a magnificent, newly renovated Tudor-style mansion situated on the Great South Bay in Sayville. Featuring amazing panoramic views and well-manicured landscape,the facility combines the essence of elegance with seaside charm. Land's End prides itself with its unsurpassed service for all types of events – from wedding celebrations and rehearsal dinners to intimate gatherings and formal affairs. With only one wedding at a time, their attention is devoted exclusively to you and your guests.
The Grand Ballroom features large windows, offering unforgettable waterfront views. Its spacious dance floor, warm décor and fresh floral centerpieces make the room inviting and create a romantic atmosphere. Land's End provides a number of outdoor and indoor venues. You can have your ceremony in one of the gazebos right on the beach, surrounded by beautiful gardens and the ocean. Included are a flower-decorated arch and white chairs. The following amenities are provided:
A Bridal Suite
Decorative seashell bowls with votive candles to compliment the center of the tables
Escort and directional cards
Personalized menus
A wide selection of linens and chair covers
Amenity baskets in the restrooms
Professional event coordinators will guide you through every detail of the planning process from beginning to end. The highly trained wait staff will present you with personal service and attention to every detail. The master chefs will prepare the sumptuous cuisine for your wedding. Seasonal drinks are offered throughout your cocktail reception. Hot and cold hors d'oeuvres are passed butler style. Enjoy a variety of stations like pasta, carving and Pacific Rim, salads, appetizers, entrees and your custom created tiered wedding cake with your choice of fillings and decorations. The bar serves premium liquor throughout your entire affair. Signature chocolates will be offered to your guests as they exit for the evening.
Land's End is a Lovin Oven location. Lovin Oven Celebrations has been organizing special events for more than twenty years. Their well-deserved reputation is based on impeccable service, elegant locations and professional staff. Their extensive experience in catering will ensure the grand success of your event.
Seating Capacity

325

Price Range (per plate)

$90 to $165

Simultaneous Events

1

# Of Reception Rooms Available

1

Business Events

Outdoor Area

Bridal Room

On Site Ceremony

Valet Parking

Kosher Menu

Outdoor Area Garden

Outdoor Area Patio

Overnight Guest Accomodations

Dance Floor

Wheelchair Accessable

Coat Check

Live Music Permitted

DJ Permitted

AV Equipment Available

Must Use In House Liquor

Air Conditioned

Kitchen On Premises

Tables Chairs Included

Virtual Tour Available

Premium Liquor

On-site party planner

Separate Room for Cocktail Party
For more details about amenities, please message the Venue.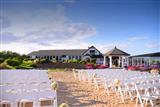 631-589-1888

631-589-7978

August, 2015
Land's End is a beautiful place, exactly what you would imagine from the name. Out here, you are right up against the ocean, and you are far away from the bustling craziness of city life. At least, that's how it feels. In reality, the location is actually quite convenient and accessible, and it's hard to believe, but you are actually right in the middle of everything. Since most of our family are from Sayville, this was one of the first places we thought of to get married. Land's End is very well known, and we were both already somewhat familiar with it. We'd seen it from the outside before, but neither of us had ever been to an event here or been inside. It is every bit as beautiful inside as it is on the outside! We opted for an outdoor wedding of course because who could pass up on getting married on the beach? We are so lucky to live here! We had our reception dinner inside though, and it was just gorgeous! A huge ballroom, which was so beautifully and romantically lit. I was really impressed with what they were able to do with the lighting for us on our wedding day. They were able to coordinate with the linens we chose and our flowers. The lighting actually really brought out the colors in the centerpieces, and the final effect was stunning. I was just so amazed by how well the whole worked together. I'm not sure which of our photos are the most beautiful, the ones we took outside on the beach and the lawn or the ones we took in the beautiful ballroom. We loved all the food! That was one of the best parts. The cocktail hour was so good! So many guests kept coming up to us raving about the food, usually between mouthfuls. They just could not get enough; I know at least a few guests who stuffed themselves on the hors d'ouvres, and hardly had room for dinner, lol. I totally get how that happened, I had to restrain myself. Especially from that Korean BBQ … oh man, it makes my mouth water just thinking about it. But it really was worth it saving room for dinner! The salad with the poached pears was I swear probably the best salad I have ever eaten. I never have had anything else like it before, and I doubt I ever will again. I wish I knew what the dressing they used was so that I could make it myself at home. Then there were spring rolls which were delightfully fresh-tasting, and then the main course of salmon. We had the most amazing wedding cake you could ever imagine. So lavishly decorated, and so sinfully decadent! We had an incredible time at Land's End. Land's End … our marriage's beginning!

November, 2014
Part of the reason we wanted so badly to get married on Long Island was so that we could do it on the beach. A place called "Land's End" just seemed like a natural choice, something to check out! They have a very lovely outdoor area for wedding ceremonies, and yes, you can get married right there on the beach! Love the little gazebo they have set up, perfect to get under the shade and still enjoy the views of the ocean. They have beautiful flowers growing nearby too, so you get plenty of color in your photographs. Cocktail hour was so nice! We loved everything we tried, and our incredible maitre'd and attendant made sure we actually got a chance to eat! We didn't expect we'd be able to, but somehow they had us in the right place at the right time and we never felt like we were being rushed from place to place. You have to try the Bavarian station! It is so good! Some of the best bratwursts I've ever had. We did our party afterwards indoors in their grand ballroom! The place is huge!!! The floor has this beautiful inlaid compass pattern in hardwood, and they have really pretty décor. You can still see out the windows even after dark. The view of the ocean is right there. It just doesn't get any lovelier than that. We had so much fun on the dance floor! The DJ they set us up with was awesome! He played all of our requests and came up with some really great stuff when we ran out of ideas. Several of our friends told us it was the best wedding set they'd ever heard. The dinner buffet had some really unique menu choices! We went with some standard stuff to make sure that we pleased everyone in our party, but we also picked a couple of the more unusual entrees. I wanted to try the sweet onion waffle thing (which is actually a savory dish). It was really good, and it's so upsetting I won't be able to eat it anywhere else. We got a customized wedding cake that was really beautiful! It was gone in a flash of course. Just like the whole amazing day. But the memories are forever!

July, 2014
When we were visiting venues, we fell in love with Land's End. It was just perfect for what we were picturing for our wedding. When we started talking to the staff members, especially Jennifer (thank you again, you were awesome!), we knew we'd found our place. The grounds here are wonderful. They're clean, immaculately maintained, and the landscaping is some of the most beautiful you can imagine. It is quiet and peaceful at the ocean's edge, and there is plenty of space here for your party to spread out and have a great time. And the catering? I can't say enough about it. I have been to a lot of weddings in the past, and I never was blown away by the food. It was just okay. But this was phenomenal! We're talking top-shelf gourmet here. As good as it gets, and personalized to us and our guests. We had a lot of questions while we were planning and a lot of items on our checklist, and they were so patient making sure we got everything just right. Thank you for making our day absolutely PERFECT.
Stats
39,755 views since Feb, 2010
Share