Beach Club Estate, Lake Ronkonkoma, New York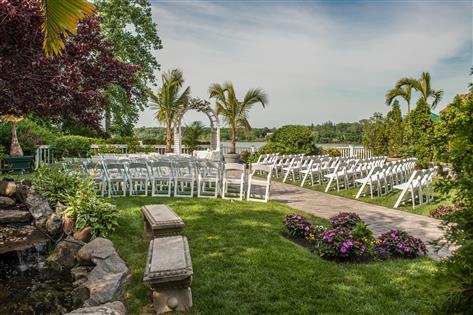 Beach Club Estate is located on the shores of Lake Ronkonkoma. Romantic sunset, breathtaking water views and waterfalls surround your lakeside ceremony, making for amazing photo opportunities. A glowing fireplace in the cocktail room warms up your winter wedding as the grand ballroom overlooks the scenic lake. They host outdoor/indoor cocktail hours and sophisticated receptions as well as beautiful outdoor Tent Weddings. A bridal suite is available for your bridal party. The on-site wedding coordinators will assist you with every detail of the planning process.
Beach Club Estate can accommodate 80-300 guests. The complete wedding service package includes:
Invitations – choose from over 200 designs
Limousine Service - white stretch limo is included in the package with complete door-to-door 3-hour service and free pickup after the wedding
Photography – a professional photographer will capture your special moments on film
Free tuxedo(s)
Bridal flowers – included are your bridal bouquet, throw bouquet, maid of honor bouquet, up to 10 boutonnieres and 4 bridesmaids' floral bouquets. Package covers 12 people including the bride and the groom
DJ with over 3000 songs and house lighting effects (Live bands are available at additional cost)
Videography – full ceremony coverage provided at church and reception.
To make your day truly special they cater to only one wedding at a time and the entire staff is dedicated to you and your guests. The delicious food is prepared by expert chefs with unique presentation and style. For cocktail hour you can choose among fruit carvings, freshly-cut vegetables, caviar, international cheeses displays and much more. Dinner includes the traditional champagne celebration, choice of appetizer and salad, entrée, a custom created wedding cake and coffee. The open bar serves top shelf liquors including frozen tropical drink presentation. They are able to accommodate custom menus as well. Beach Club Estate offers special value pricing for select flexible dates. With its spectacular settings the Beach Club Estate is a perfect choice for an unforgettable day.
Seating Capacity

50 to 150

Price Range (per plate)

$50 to $90

Simultaneous Events

1

# Of Reception Rooms Available

1

Business Events

Outdoor Area

Bridal Room

On Site Ceremony

Valet Parking

Off Premise Catering Available

Kosher Menu

Outdoor Area Garden

Outdoor Area Terrace

Outdoor Area Patio

Overnight Guest Accomodations

Dance Floor

Wheelchair Accessable

Coat Check

Live Music Permitted

DJ Permitted

AV Equipment Available

Must Use In House Liquor

Must Use In House Caterer

Air Conditioned

Kitchen On Premises

In-House Party Planner

Tables Chairs Included

Virtual Tour Available

Premium Liquor

Separate Room for Cocktail Party
For more details about amenities, please message the Venue.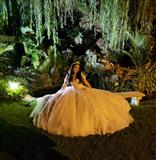 631-588-8083

631-737-1146

June, 2015
This place is SUCH an incredible spot!!! I loved getting married here. I loved every minute of it, and that was despite a lot of random stuff going wrong on our end. We had a few confused relatives who were lost getting to us from the airport (their plane was late), and we also screwed up a few other things in our plans. In spite of all that stress, we had a practically stress-free day, because we didn't have to worry about anything on the vendor's end. Beach Club Estate was so perfect. We didn't have to do anything to keep things on track. We never had to baby-sit them or check up on them. In fact, they were the ones who were usually checking up on us to make sure we weren't forgetting anything. Frank actually stopped us from making other mistakes. He was so on top of everything, which as you can see was pretty much necessary since we weren't. As my parents are fond of reminding me, particularly my mother, I have just never been a planner. I have always been a fly-by-the-seat-of-my-pants kind of girl, and that just wasn't going to cut it with my wedding. Thankfully the whole staff at Beach Club was just as amazing as Frank. I literally just don't know what we would have done without them, because I'd have made it all a disaster on my own. Frank did all the overarching planning on the wedding, but there were a lot of staff members we worked with who helped with the different elements like the catering manager and the bridal attendant and our maitre'd. Each of them brought something to the table (sometimes literally) that just made our day perfect. In fact, there was even food in the bridal suite, which was great since I needed it and we hadn't gotten around to the dinner or the cocktail hour yet. I would have hated to have spent the ceremony thinking about my empty stomach, and I totally had nothing for breakfast that morning since we left the house in a hurry. Yet another area where I didn't think ahead, but the Beach Club people did. I know that if we had picked another place we would not have had such a perfect experience. I know this because I have been to weddings where things went wrong, and it wasn't the bride's fault. Here, things could easily have gone wrong and it would have been my fault, but instead, the whole day went as hitch-free as I could possibly have imagined, and that was despite my own clumsy planning. My mom kept telling me that things were going to be a mess if I didn't step up my game, but even she was thrilled and awed at how beautifully everything went. And you know, this is how it should be! When you're getting married, you shouldn't have to worry about a thousand things. It's supposed to be YOUR day, and everyone should be there for YOU and your husband. So I just want to say thanks again to Frank and everyone else at Beach Club who went out of your way to make our day so special. All of you are remarkable, and we literally could not have done it without you. You were here for US, and you made us so happy!!!!!
1 out of 1 found this review helpful

September, 2014
We had the most magical, beautiful, unforgettable day of our lives here! I could list all the different things that were part of that ... the incredible, unbelievably good food, the lovely gardens and the views of the water, the delightful staff ... but it was more than that. It was the way all those elements were brought together, like instruments in an orchestra in perfect harmony. Everything just flowed along so perfectly. There was never a hitch or a hiccup. It was just this one perfect, amazing day, planned just for us. Thank you to everyone at Beach Club - you could not have made us happier than we were that day!

September, 2014
Do you love the tropics? I love the tropics. I love them so much that originally I wanted us to travel to Jamaica to get married. But the planning was such a nightmare we gave up almost immediately. All our friends and family are here on Long Island, and we couldn't ask them all to travel. No, it made far more sense to get married right here at home. So we got married at the place with the palm trees. Tropical trees and flowers are a rare sight in this part of the world, but here they have them aplenty. The gardens are beautiful and they smell so amazing! Breathing here is like breathing in the scent of a tropical getaway (although I could hardly breathe on my wedding day because I was so swept away in all the emotion!). Okay, so, reasons you should choose to have your wedding here! • The gorgeous grounds! Did I mention the grounds are amazing! Right on the beach, so pretty! Okay, yeah, I think I talked about that part already :) • They only do one wedding at a time. There are a lot of places that have more than one wedding at once. I was dead set against that. My sister's wedding last year was going on at the same time as another one and it was awful. People kept coming through and getting in the way of her event. Here, you don't have that happening at all! And you get their full attention! • The staff is great, and has a plan B for everything. They even had one in case it rained. Forecast that day was a bit iffy. Thankfully it stayed clear and we got to get married on the beach, but it was good to know they had us covered. Frankie was my husband's maitre'd, and he's still singing his praises weeks later! • Ladies, you are going to love their bridal attendants, assuming they are all as good as mine was. Brittany, thank you for being so wonderful with me. I know I was nervous and probably not easy to deal with at times, but you were so nice to me and helped me relax enough to walk down the aisle. Lush tropical setting, a beautiful beachfront view, an amazing staff who really care about your day, what more can you ask for? It was the wedding we always dreamed of, and we will cherish every minute of it forever and ever!

August, 2014
We always wanted to get married in the tropics, but real-life finances wouldn't allow us to travel, and we didn't want to keep waiting to get married. Someone told us about Beach Club Estate, and we were thrilled! They have palm trees here and beautiful flowers, and we actually did feel like we'd been whisked away to the tropics. We were sold on it even before we talked to anyone, but we felt even more excited when we started chatting with the staff, especially Frank, who became our maitre'd. We hadn't done a lot in the way of planning before we showed up at the venue, so we were totally floundering where the specifics were concerned. They got us set up with flowers, food, videography, everything. We couldn't believe how easy it was! We'd been prepared to do a lot of research and more interviewing, but we loved all the options they gave us, and we hardly had to do any more planning on our own. Another thing we loved about this venue was its size. This is not a big venue! It is best if you have a party with 150 people or less. Our party had around 50. This place was cozy enough that it felt really intimate, and we were the only party that day, which was amazing, because it meant we had their full attention! The food was great, especially the wedding cake, which was gorgeous and delicious! We didn't go hungry; even though it was a busy day we had plenty of time to enjoy the wonderful cuisine. They did such a great job orchestrating the timing that we never felt like we were rushed. We just were able to enjoy our special day and spend time with the people we love. Even though we didn't get to fly to the tropics to tie the knot, the people here at the Beach Club made our wedding dreams come true!

July, 2014
We got married at this stunning venue on a beautiful day. The scenery is amazing, and we loved the palm trees and the tropical vibe they lent the place! It almost felt like a mini-vacation getting married here. Frank, the catering manager, was excellent planning our menu with us, and we loved everything we tried! Every single staff member went above and beyond to make sure we had the most amazing day.
1 out of 1 found this review helpful

August, 2013
I was at Beach Club Estate a few months ago I attended a wedding it was great. Excellent and professional I must say. I went as a favor to a friend, didn't really want to go. Especially, I didn't know anyone but my date. I am so glad I did I had an awesome time. I would recommend Windows on the Lake, Lake Ronkonkoma, best wedding I have ever been too. The food was extraordinary. The bride was so happy, she smiled and laughed through the whole wedding. Beach Club Estate was so nice I even thought about starting to plan a wedding for myself. The scenery was spectacular. Looking over the lake. The ambiance was so warm and welcoming. I just love walking around the grounds, felt like i was in a fairy tale. Especially, where in New York would you find Palm Trees. Yes, I said it Palm trees, felt like I was in a tropical vacation. What can be better than that. I would definitely recommend Beach Club Estate. Michele V. from Freeport
Stats
44,639 views since Feb, 2010
Share