West Lake Inn


Upon entering the lobby of the newly renovated West Lake Inn you will be instantly greeted by the warmth of our massive stone fireplace and soft decor. Exquisite cherry hard wood floors, plush imported furniture, and every amenity imaginable to accommodate your tastes in custom designing any event.

Our talented culinary team and professional service staff pride themselves on impeccable service, attention to detail, flawless presentation and will be at your disposal for whatever you can dream up. Our banquet sales managers are experienced in coordinating every type of event, from the most elegant weddings to corporate cocktail parties, they will work side by side with you to ensure your every desire is fulfilled.
Seating Capacity

500

Price Range (per plate)

$60 to $95

Simultaneous Events

1

Outdoor Area
For more details about amenities, please message the Venue.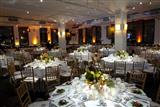 631-475-1300

August, 2015
Wow, I cannot believe there are not more reviews! Although, it took me months to feel like this one was finally ready to post. The amazing people here took so much time and put in so much effort to ensure that we had a perfect wedding, I wanted to return that same time and effort and care. They deserve it. What can I say to describe the beauty of this incredible place? It's so elegant, so refined … and so warm and inviting at the same time. I think it's hard to capture those two things and convey them through one extraordinary atmosphere, but they do. Even though this place is absolutely huge, it also feels incredibly intimate. You can easily fit 500 people in the ballroom, and it still seems like there is room to spare. Plenty of room to dance the night away, which we did! The DJ was great, one of the best parts of the wedding. Didn't expect that. I knew the party would be fun, but I had no idea it would be as phenomenal as it was! The ballroom is all decked out in marble. There were two bars, both marble, and this really cool lighting on the ceiling with fabric, I'm not sure how to explain it. The dance floor was made of beautiful hardwood, and the place just looked incredible with our linens and centerpieces! They were able to match the lighting to our theme. I also have to compliment the bridal lounge, which was soooo nice. I felt like I was in the lap of luxury. Comfortable seating and everything I needed was right there, and it was nice and secluded and got me away from all the bustle when I needed a few minutes to myself to get ready. My bridal attendant was amazing! Whenever I felt lost or forgot what I was supposed to be doing, she was there to gently nudge me in the right direction or give me what I needed. And that was the main thing really, that made this place the super special place that it is. Truly terrific people, who truly cared about us and our wedding. We just loved it, and we know we picked the very best catering hall around. Our wedding was perfect, and if you want yours to be, this is exactly where you should book!

November, 2014
We found our way here through a referral. I am surprised that they don't seem like they have a lot of reviews online. I'm not sure why; I could tell that they are a popular venue just by visiting. They were very busy (but they are great at juggling things). They must find most of their customers the same way we found them, by word of mouth. Our best friends are a couple that got married here several years ago, before we moved to the area. So sadly we didn't get to see their wedding, but they told us all about it when we announced our engagement. We loved the building from the moment we walked in. They have a huge, beautiful stone fireplace inside the lobby, which was working when we got married. They had the place all decked out for the holidays, and it was just gorgeous. This hotel has a wonderful ambiance, and I think it has to do with the building materials they've used. There's the stone hearth, and those amazing hardwood floors. Even the couches here are beautiful (and very comfortable). The banquet hall has these pretty fabric "ribbon" things (I don't have a better way to describe them) on the ceiling. They set the tables beautifully with tablecloths and lovely place settings. Obviously ambiance was a big deal to us. West Lake Inn has it in spades. The food was a big deal to me as well, and that's another area where WLI really is the crème of the crop! As I mentioned, we got married in the winter, and we loved all the holiday décor. They also have special seasonal food and drinks depending on the time of year you get married! So we were able to enjoy hot apple cider (home made, absolutely incredible!) and cinnamon sticks. Very yummy and cozy! Cocktail hour was wonderful and we had delicious hors d'oeuvres. There was also this seriously amazing international cheese table and these cool stations with different types of food. They gave us so many choices! A lot of our friends told us that it was the best cocktail hour they had ever been to. The sit-down dinner that comes later in the evening is even more amazing. You start out with fresh salad, then move on to a delicious second course (the grilled peach is exquisite), then a main course (they gave us the option of a combination course instead, but we liked the idea of having multiple courses in the meal; it seemed fancier). My shrimp and salmon was perfect! We got one of the vegetarian entrees as well since a number of our friends are vegetarians or vegans, and they said it was some of the best vegetarian food they ever had. Our cake was truly out of this world. The cake was something we actually forgot about until they asked us about it. There was just so much to think about, and somehow the cake got lost amid all our other wedding plans. We both fretted about what to order, but they let us try a few things, and gave us some suggestions too. They have so many different fillings you can choose from! They will do pretty much anything you can imagine to decorate the cake. We went with a pretty simple, traditional wedding cake, but I can't tell you how scrumptious it was, and so beautiful! They also have a lot of gourmet desserts you can choose from. We had some of those so that the guests could choose something other than just the cake. I was too full to try anything, which was dismaying, because it all looked so amazing! My husband did try a pastry though and said it was even better than the cake. We did look at some other catering menus when we were looking at other venues, and we did not see any catering menus with half as many options as they give you here! If you are looking for a place where you will get a lot of choices, this is where you want to be. There is nothing they can't do as far as substitutions and special requests are concerned either. Also, another word on décor! I was amazed by how many options we were given as far as jazzing up the banquet hall went! We looked through their portfolio and were amazed by how much they were able to transform that room to look completely different from party to party. Ours looked different yet again—nice warm lighting, just beautiful. They are willing to let you bring your own centerpiece too. There was nothing they couldn't accommodate. Working with these people to plan our wedding was truly a pleasure, and we were blown away by how many choices they gave us. At the same time, we never felt overwhelmed. They made everything easy and were ready with suggestions whenever we felt lost. Our wedding was incredible, and we loved every minute!
Stats
26,102 views since Feb, 2010
Appears In
Share