Floral Terrace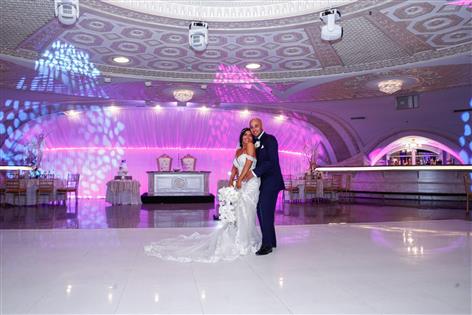 "The Theatre Classic of Long Island", built in 1927 has been transformed into one of the most elegant and sophisticated catering halls, and masterfully restored to its original beauty. Majestic is how you can describe this facility. With only one wedding at a time you'll certainly receive all the close personal attention you deserve. Family owned and operated, the Floral Terrace is dedicated to providing you with the highest quality service.

Upon entrance you'll be instantaneously impressed by the stylish seating areas and imported marble floors, magnificent décor and romantic atmosphere. A private elevator takes you to the ballroom level. A spectacular crystal chandelier is intimately lit over a spacious raised dancefloor. The curved ceiling features stunning carved gilt moldings. One of the largest Bridal Suites anywhere is available for you and your bridal party. The Garden room, which can also be used as a chapel for your ceremony, features a modern interior of glass and marble, and a romantic baby grand piano. Waterfalls and floral arrangements adorn the room, perfect for unforgettable photos. Enjoy the 4,000 square feet of indoor gardens and flowers.

The culinary skills of European-trained, award-winning chefs will satisfy event the most discriminating tastes. Hot and cold hors d'oeuvres and canapés will be passed butler style throughout your cocktail hour. Chafing dishes, seafood presentations, caviar stations and pasta tables are just some of the items on the menu. Your dinner reception begins with the traditional champagne toast and includes appetizers, salads, your choice of entrée and your beautifully decorated, custom tiered wedding cake, served with tea and coffee. Five hour open bar will offer premium brand liquor, fine wines, imported beers and other drinks. A professional wedding coordinator will assist you in the planning process from beginning to end. Valet parking is included.

The Floral Terrace has often been referred to as the "crown jewel" of all Long Island catering halls. The staff will ensure that no detail is overlooked and attend to your every need. Experience the grandeur of this amazing facility.
Seating Capacity

100 to 500

Price Range (per plate)

$80 to $170

Simultaneous Events

1

# Of Reception Rooms Available

1

Business Events

Outdoor Area

Bridal Room

On Site Ceremony

Valet Parking

Off Premise Catering Available

Dance Floor

Wheelchair Accessable

Coat Check

Live Music Permitted

DJ Permitted

AV Equipment Available

Must Use In House Liquor

Air Conditioned

Kitchen On Premises

In-House Party Planner

Tables Chairs Included

Premium Liquor

On-site party planner

Separate Room for Cocktail Party
For more details about amenities, please message the Venue.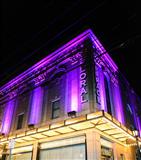 516-488-2626

516-775-6718

August, 2015
Now that was what I call a party!!!!! We had such an incredible time and I can't believe it's already over. We were here for hours but each of them flew by like they were seconds.

January, 2015
My wedding reception was October 12, 2013 (late with the review). I had an amazing experience. The food was amazing, they catered to my every request since I had vegetarian eaters at my wedding. They set up everything beautifully. My bridal attendants were beyond great and helpful, not only to me & my husband but my entire bridal party and family. Overall, I would definitely recommend anyone to go to Floral Terrace for their wedding. It's a gorgeous place and the consultants were very helpful as well.

December, 2014
Originally I was really nervous about holding our wedding at one of these big venues. I thought there'd be another wedding going on at the same time, or that the food would be blah, or that the people who work here would be so busy that they wouldn't have the time of day for us, and it'd still end up costing us twice what we could actually afford. I couldn't have been more wrong in the case of Floral Terrace! We did get treated that way at some of the other venues we looked at, but here we got all their attention from the moment we walked in the door. We both got really excited when we started touring this gorgeous place, especially when we saw the dance floor with the chandelier. This was totally going to be outside our budget, right? Nope, we got a MUCH better price quote than we'd had from the previous place we went to, and we liked it SO much more. There was a lot of stuff I didn't want to bother with when we were making our plans. I was too busy working on our honeymoon plans to want to bother with the décor and entertainment and such. Guess what? I didn't have to do anything, they had people to do that stuff for us! I told them the colors for the wedding, and they took care of it all. So nice being able to just sit back and let them take care of it all. Frank was the amazing gentleman who worked with us on all this stuff. When I told him I didn't want to have to sweat the details, he immediately showed me the list of vendors they work with and introduced me to in-house staff. I told him to basically just do whatever fit with my wedding theme, and they did not disappoint! Everything was flawless. I know if I'd stuck my nose into it, it wouldn't have come out so beautifully. Frank was actually such a joy to work with that my husband got to enjoying his conversations with him about the plans. Pretty funny, I think he actually misses them. We did get to enjoy our wedding food, which was another pleasant surprise. When we picked out the courses, we were thinking mainly of what our family and friends would want to eat, because we assumed we weren't going to get a bite after the cocktail hour (which btw was amazing). But George pulled us over to the table and sat us down and had us eat. Good thing too, cause we were about to miss out on some really incredible food. This is not that cheap banquet food that I've had at so many weddings! They let us try everything, so I had a little of each of the dishes we ordered. The chicken was amazing, but it was the seafood that really took my breath away. They let us take home leftovers at the end of the day, so we really enjoyed munching on them the next day during lunch! We had a little bit of all the main courses and all the side dishes (the potatoes are really good), and some leftover desserts. Delicious Viennese pastries and coffee in addition to a wonderful wedding cake. The house DJ was Genesis Events, and they put on quite a show for us. As mentioned, entertainment was something I wasn't thrilled about planning, probably because I felt pretty hopeless and unenthused about it right from the start (I mean, how many horrible wedding singers and DJs have I had to listen to over the years as I watched my sisters and friends get married? You know what I mean). Genesis Events was another awesome surprise. They actually played really good music all night. There wasn't a single bad selection, and they took our taste into account. Everyone had a fun time dancing, and they were great about taking requests from the guests too. We could not have been happier with the music! We were the only couple getting married that day, and we had the facility to ourselves for most of the day. Our wedding party had more than 300 people in it, and I was amazed at how much space they had for everyone. I think they could easily have accommodated a lot more. It was a beautiful event, and we will treasure every minute of it forever. We will have to think of a way to come back. Maybe for an anniversary celebration or a baby shower or something like that. I would love the chance to work with Frank and the others again, and have another chance to dance in that beautiful ballroom.

September, 2014
This is quite a remarkable place. It used to be a theater, which you can tell straight away from the architecture. They kept a lot of the original style elements but converted it to a ball room and catering hall. The ceremony room is pleasant—nothing extraordinary in my opinion. Churches are prettier, but neither of us is at all religious, so this seemed like a better place to do the ceremony. The ballroom though is stunning! They have this gorgeous chandelier, and the ceiling has all these beautiful designs on it. It is also HUGE. I'd definitely recommend this venue for bigger weddings. If you have a small party, your guests will feel a bit lost here. But for a huge group, it's ideal. You could fit several hundred people in here easily and still have extra space if you had to. We had less than that, so at first I was worried they would try to juggle two weddings at once, but they assured me they never do that. Just one wedding at a time, always. It was a long planning process. We didn't want to miss a single detail. So we met the staff and placed our reservation many months before we actually tied the knot. We worked closely with Frank that entire time. By the day of the wedding, it felt like he was our really good friend who we'd known for years! That was the kind of respect he treated us with. It was like he wanted our wedding to be perfect because he really knew us, and really cared. Hubby and I were both thrilled with the wonderful service here and the amazing reception!

July, 2014
This is such a beautiful venue. They really create a beautiful ambiance here. We had a wonderful time working with George and all the other fantastic staff members here on our wedding. Thank you so much for helping us to make our special day perfect!

April, 2014
Everything about this venue is outstanding. We are so glad this was the choice we went with!! George, our banquet manager, was a joy to work with. Then there's the venue itself, which is absolutely beautiful ... the interior is gorgeous, the way it glows. Drop by and you'll be amazed.

July, 2013
I was married here on September 23,2007 and the staff and food was excellent. The best thing about floral terrace was the fact that it was o e wedding at a time. Floral terrace paid extra special attention to me on my wedding day and made my wedding day the best it could be. Jennifer digiammarco-fiorito and sandro fiorito

June, 2008
Got married at The Floral Terrace back in summer 2007. Had a wonderful wedding and I would highly recommend them to anyone having a wedding in Long Island. The staff was excellent and the grounds were just beautiful. 5 Stars from me! Lynn W.
Stats
32,175 views since Oct, 2011
Share