Home
»
Articles, Guides, and Tips
Posted by
Amanda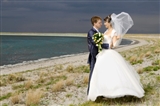 Weddings come in all shapes and sizes and determining what kind of wedding that you want to have can help to increase your enjoyment level. Beach weddings are very popular, whether it is on a local beach or a destination wedding, but planning one has some unique considerations when compared to a church wedding. What are some of the decisions that you need to make when you are considering a beach wedding?

Location. The location is very important for a beach wedding. While your idea may be to have it on the beach, you want to have a location that will give you some flexibility. You do not have any control over Mother Nature, so you want to be sure that you choose a beachfront catering hall or location to have your reception or to use for the ceremony if the weather does not cooperate. By doing your research, you will be able to find the right beachfront catering hall that is right for you and your special day.

Time of Day. Whether you want the wedding at sunset or you want it during the day, you want to be sure that you consider the time of day when you are planning a beach wedding. Most people go with sunset, but you can choose any time of the day that you want for your beach wedding.

Size of wedding. Do you want to have a small, intimate wedding or do you want to have a large wedding? Determining this will ensure that you have the wedding of your dreams. While you want to keep your parents somewhat happy, if you really want a small, intimate wedding with just a few family members and friends, go with it to make sure that you have the perfect day. On the other hand, if you have always dreamed of lots of people and fun at your wedding, go with that. You are the star of the day and you want to have the wedding that you have always dreamed of.

Budget. Your budget will have a big impact upon where you have your beachfront wedding. From a beachfront mansion to a beachfront pavilion to a beachfront hotel, you will see that there are choices in locations that will allow you to have the beachfront ceremony that you want without having to overdo it on your budget. You want to be sure that your budget fits your wants and your needs, as well as your dreams for your special wedding.

A beachfront wedding can make all the difference in your wedding day. If you have been dreaming of a wedding on the beach, you want to find the right location that will fit your budget, the size of your wedding, your budget, and your needs, to ensure that you have that special day that you have always been dreaming of. By planning ahead and doing your research, you will be able to plan the perfect beachfront day for you, for your fiancé, and your family and friends.

Please visit our Waterfront / Waterview page for a list of waterfront catering halls on Long Island.
More Articles by Amanda
«-- Return to Article Index