Home
»
Articles, Guides, and Tips
Posted by
Amanda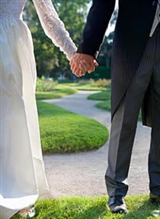 A reception hall can be a wonderland once you know how to decorate it so it can be transformed into the beautiful place you desire for the reception. The hall can be transformed from a drab empty room into a medieval forest, fairy tale castle, garden, or whatever else your imagination can comprehend. All you need are the right decorations.

Your wedding reception is a very important part of your wedding and is normally the first meal you will have together has husband and wife while enjoying the company of your families and friends that are invited to share your special day.

In most cases, you will want the reception to follow the theme of the wedding. You more than likely do not want a casual affair if you had an elegant ballroom style wedding. On the other hand, this is your wedding and your reception and you deserve the memories you want to cherish.

If you had an outdoor wedding, but want your reception to be indoors you can still go with the outdoor theme. Plan picnic foods and instead of fold out tables use blankets on the ground for a picnic setting all indoors. Even if you had an indoor wedding but had a more casual affair, a picnic reception could still be accomplished and all the guests will have fun. You can serve such foods as fried chicken, potato salad, and whipped potatoes or even just serve chicken salad sandwiches and other finger foods.

The number one thing to think about before you begin decorating the catering hall is to know how many people will be attending. You will enough room for all guests to have a comfortable place to sit and enjoy their meal.

Will there be dancing? What type? Do you want a country hoe down, slow dancing, or rock? Will there be a DJ or a band? Do you have room for a band in the catering hall? Is there room for dancing if you have tables covering the floor for eating?
You can always speak with the experts at the catering hall to help you design the table and chairs so each guest will be able to enjoy the reception.

For the decorations, you need to think about the centerpieces for each table, the walls, the doorways, and more. You can use candelabras, candles, lanterns, ribbons, flowers of all kinds, balloons, and more to create the theme for your reception. If you had a fairy tale wedding, you may wish to use glass slippers on the tables, elegant ballroom style weddings may wish to use white and lavender roses, and so on and so forth according to your own wishes.

You can even decorate the ceiling with stars, ribbons flowing down, or streamers from the ceiling to the wedding cake. Remember the wedding cake is the main attraction at your reception. The cake should be place in the center of one table with nothing else besides the plates and the serving needs.
You can use tablecloths of all kinds and colors to add to the atmosphere of your reception. Just by adding a lace tablecloth to the fold out tables, you have added a touch of class. Now, what you do with the rest of the table will say it all. Design a centerpiece with the colors of your wedding then sprinkle other items around the centerpiece such as confetti, rose petals, or colored string.

The drab old reception hall with just a bit of help will be transformed into a themed reception for any type of reception from country to royalty all with the help of a few decorations.
More Articles by Amanda
«-- Return to Article Index