Home
»
Articles, Guides, and Tips
Posted by
Amanda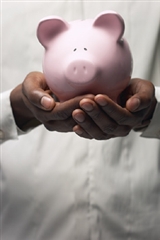 If you're having a buffet or not that many guests, assigning seats is optional. But for more than 100 people you'll want to make sure everyone has a specific table to sit at. Although it's one of the last things on your to-do list, the key to a successful seating arrangement is to start planning it early (not the day before or the day of your wedding) and go over it a few times just to make sure you didn't make any mistakes. Before you start, include the possibilities for a few extra guests and guests that might not show up; also consider situations where certain family members don't get along and you'd want to seat them as far apart as possible.

Bride's table
The traditional head table is long and straight, and it's usually placed along a wall, on risers, facing all the other reception tables. The bride and groom sit in the middle where everyone can see them, with the bride seated on the groom's right. The maid of honor sits next to the groom and the best man next to the bride; bridesmaids, groomsmen and ushers are alternately seated so that women are seated between two men and vice versa. If your wedding party is large, you may choose to seat the ushers at a separate table and only have the groomsmen at the bride's table. On the other hand, if you have a small wedding party you can invite your bridal attendants' husbands and the groomsmen's wives to join you at your table.

That's the traditional seating arrangement but you can switch things around. All the maids can sit on the bride's side and all the groomsmen - on the groom's. Or the bride and groom can sit by themselves and the bridal party can be seated with their dates and the rest of the guests.

Parents' table
Usually receptions have a parents' table for both the bride's and groom's parents, grandparents and godparents. The officiant and their spouse also sit at this table if they choose to attend. If the parents' table is too small, you can set up a second table. If the bride's or groom's parents are divorced, the parent who did not raise the child should be seated at a second table with his or her immediate family members. Siblings may be assigned their own tables to host so that they won't have to choose which parent to sit with.

Guests' tables
Start by giving each table a number and inform guests where they'll be sitting in advance. It's best if your place cards are handwritten and match your invitations. Here are a few pointers about seating your guests – couples should be seated together; children under 7 should be seated at their parents' table; guests with disabilities should be seated near the restrooms; a children's table can be set up for kids between 7 and 14. To make things easier for your guests, try to take into consideration their preferences, for example don't place divorced couples at the same table; seat people with common interests next to each other; place your closest relatives and friends close to the bride's table. Your main goal in assigning seats for your guests is to make them feel comfortable so that they'll enjoy themselves.
More Articles by Amanda
«-- Return to Article Index