Home
»
Articles, Guides, and Tips
Posted by
Amanda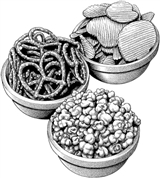 There is one event that makes everyone look forward to the TV – the Super Bowl. Whether you are a sports freak or a fan of the commercials, the Super Bowl is one of the most watched events of the year in the United States (and other places around the world). Planning a Super Bowl party is a great way to gather with friends, family and neighbors so you can all gather together and worship the TV in one place. When you include a meal and some appetizers, it is a great time to socialize and cheer on your favorite team.

Planning a Super Bowl party is a fun time, no matter if your team is going in to the game or night. When you have a few drinks, food and then the decorations, it makes for a fun and memorable night, no matter what two teams are meeting. All you need to do check the football schedule ahead of time and see when the Super Bowl is planned and then book your catering hall to get the planning process moving.

Send out invitations that are shaped like a football to get the event started off right. List the date and time, location and what they should wear. Wear? Of course, make it where they have to wear a jersey of their favorite – no matter if it is pro, college or high school – team. You can even make it more fun by having a contest for the person who shows up and has the best school spirit look. Did they paint their face? Do they have a cheerleader skirt on and pom poms? Give out a prize for the best dressed of the evening.

Since it is the Super Bowl, having a bunch of tail gate food might work out the best. The catering hall staff can provide a lot of hot appetizers, like wings, jalapeno poppers, hot cheese dips, and even various types of fried foods. To compliment those foods, there could be vegetable trays, cheese and crackers, fruit bowls or cookies. Finger foods work well when people are munching between quarters or running back and forth between watching the game and chatting with their friends.

If you want to have a full meal during your Super Bowl party, then you can work with the staff on scheduling it. Do you want it served during halftime? Do you want everyone to eat before the game even starts? No matter what you decide to do, the staff can work around your schedule and serve what style of food that is fitting for your party. It might be sandwiches or it might be baked chicken cordon bleu. Choose what you like to enjoy at a meal and serve your friend sup right.

Now, every Super Bowl party will need at least one TV where everyone can see clearly. Does the venue have a large screen TV? Do they have TV hookup to cable or satellite providers? If they do, then you can ask if you can bring in a few large screened TVs from a rental place. Place the TV in separate areas of the hall or else group them together in a circle so everyone can be in the same area to watch the game. If they don't want to watch the game, then they can move about the room and chat with friends or do something else.

When you have people attending who don't like football, you can set out some board games, a deck of cards or even some coloring books if the kids will be out. Kids and adults who don't watch football can play the board games or even come up with a card game. Paper, crayons, scissors and glue can keep kids entertained for a few hours as well, when a table is set up specifically for them. Give them some football shapes and have them create a team logo. Make it a contest and see who can win with the best design for a new mascot or logo. Make it a fun contest so everyone will want to join in, even the people who watch football.

You can choose to serve drinks at your Super Bowl party, but give them a twist. See if the bartenders will color the drinks to match the team colors. Is your favorite team blue? Make every drink served blue. DO you prefer the team in red? Color everything red and let your friends see how much of a true fan you are of the team and the game. When you are serving drinks, you will also want to have coffee and other options for those who aren't drinking alcohol on that night. Offer a list of taxi cab numbers if someone needs a ride home too.

Decorating for a Super Bowl party is also a lot of fun. You can make your own signs and banner to cheer for both teams or you can pick one team and completely root for them. There aren't any rules on who you have to cheer for, as long as everyone has a fun time. The tables can be covered in football confetti, the plates can be green like the astro turf and the napkins can be striped like the referees uniforms. See how creative you and the staff can come up with when it comes to colors and making the entire night a football themed fun time.
More Articles by Amanda
«-- Return to Article Index