Home
»
Articles, Guides, and Tips
Posted by
Amanda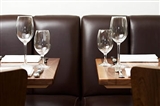 Catered affairs and events are typically sold on a per-person basis. In other words, there is a price charged for each individual person. However, there are normally additional charges for fire permits or lighting as examples. Caterers typically have to keep the cost of the food below a certain margin in order to make a profit on the catering. Typically, caterers (and their staff members) are not strangers to long hours and working late into the evening at times. During certain holiday seasons, it is not uncommon for caterers to work on holidays as well as 7 days a week.

When you approach a caterer, whether you are in Long Island or anywhere else, the normal process is for the caterer to give you an estimate once you have approached them. It doesn't necessarily mean that you will hire that particular caterer and of course, they are aware of that fact also. It's just standard procedure like getting estimates on a new roof, or repairs on your vehicle, and so on. The following items are what you will normally see a caterer charge for their services should you hire them.


The schedule of the event's timeline – This will normally cover the following:
• bar open time
• bar close time
• meal serve time
• out-of-venue time
• rental arrival time
• rental pickup
• staff arrival time

Typically, all of these will have an effect on the cost of hiring the caterer. Additionally, the rental quote for an "anytime" weekday arrival will always be lest costly compared to a specified or "exact time" arrival.

General or specific menu considerations – There are certain individuals that may need to specify the type of food for dietary or possibly religious reasons. Caterers are very aware that clients have grown increasingly more concerned about the safety and the sustainability of food items.
Hors d'oeuvres – Some people feel that these are necessary; others view them purely as an option.
The actual meal – The price on the main meal is going to very from caterer to caterer based on items that are chosen and how many actual dishes that are considered as part of the main meal.
Rentals – Rentals are generally equipment and/or fixtures that the caterer provides for a fee. This would include bar glassware, chairs, dance floor, plants, serving equipment, salt/peppers, tables, and tabletop items such as china, flatware, glassware, linens, chargers.
Labor charges – The definition or actual verbiage used to describe labor will vary. It is advisable that you ask the caterer during the interview what they consider to be labor related charges. The labor involved for a buffet type dinner will cost less labor-wise than a plated dinner.
Service charges
Sales Tax
Oftentimes, the quote will list other amenities that the caterer will provide upon request. These would include coat check, draping, fire permits, flowers or floral arrangements, lighting, and valets. Unfortunately, legitimate caterers are always challenged by illegal operators who harm the industry's good name. Just remember that the ethical Long Island caterer will always have a business license as well as food handling and health permits visibly on display at their places of business.
More Articles by Amanda
«-- Return to Article Index