Home
»
Articles, Guides, and Tips
Posted by
Amanda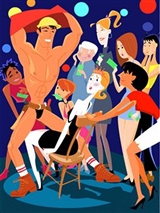 The bride to be needs and deserves a party that rivals that of her husband's bachelor party. For decades, men have owned the top spot for unbelievable parties, but now women are closing in. The parties can be held at a home or an evening out to dinner and maybe a club can also be part of the festivities. Unlike a bridal shower, a bachelorette party is one that mimics the bachelors the groom to be will enjoy with his friends.

The idea of bachelorette parties are quite easy to put together and they can involve a variety of activities. There are drinking games and activities that mimic what girls do at a sleep over. They include makeovers and cooking recipes, but with the entertainment and drinks, it is more grown up.

In addition, all of the single women can ask the bride to be questions. The night can be used for reminiscing about the past and the future. Even the bride can learn a few things from the party guests that have been married.

Bachelorette parties must have alcohol. It is in the handbook for pre-wedding planning there are a variety of drinks to use as an accompaniment to the food including one called a blowjob that is Kailua topped with whipped cream and a drink called pop the cherry that is cherry brandy with orange juice. These are just ideas. You are welcome to serve whatever you like.

Food works well with alcohol. That is true at any party including bachelorette parties. Have a penis shaped cake or other food items. You can even get penis lollypops as party favors for the guests. A party has to have a theme, right? The cake should be a focal point for the party and consider having a man pop of it out wearing only the icing. Now, that is a party!

Between the stripper and the food, you may have time for games. There is a variety of different games that you can play and most include alcoholic beverages. The card game, President and Asshole, makes people drink according to their rank while playing. You could also watch a movie and drink every time the characters do.

The bride to be has to look the part for her bachelorette party. For this reason, a veil can be worn to show her bride status. You can find pretty reasonably priced items in a party store and most say "Bride to Be" so the lucky girl can party in style. Do not forget about bride to be crowns, bridesmaid toppers, penis hats, tiaras, and other party related hats that all of the guests can wear and enjoy.

Each and every bachelorette party has to sing to its own key. Sure, you may want penis shaped snacks and even a male blow up doll to light up the party before the male entertainment arrives. At your local party store, favors can be made to resemble brides and grooms or certain body parts. There are dozens of pecker related party items that will spice up the party and leave everyone to have a good time.
More Articles by Amanda
«-- Return to Article Index