Home
»
Articles, Guides, and Tips
Posted by
Amanda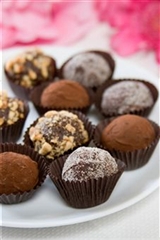 Wedding favors make your guests feel appreciated that they helped with the wedding and attended the ceremony. They can be hand made, store bought, or edible. That's right. You can have edible wedding favors and some parts of the favor can actually be saved as a keepsake. This makes them a great gift.

Edible wedding favors can be more enjoyable than traditional ones. They get to taste the favors and then keep parts of it as a memory for your wedding day. Sounds like a good favor, right. There are quite a few edible goodies that you can give your guests.

Chocolates have long since been favorites for every occasion. You can get small candies or even chocolate bars with the happy couple's name and the wedding date on them. You can even have the chocolates outside designed to reflect the theme and colors of your wedding.

Tins that have nuts or candies inside are also quite popular. You can fill small tins with a variety of different candies like mints and chocolates. Nuts o different varieties can be used too and the tins can be engraved to symbolize the day.

Everyone loves either coffee or tea. For that reason, small boxes of these make great wedding favors. The couple's name and wedding date can be added to the outside of the box and a variety of teas and coffees can be added to the inside.

Cookies come in all different shapes and sizes. In addition, there are so many flavors to choose from that each guest can get ones that they will enjoy. Have the cookies made into wedding shapes or the initials of the couple and gift them in a box complete with the happy couple's wedding day information.

While chocolates are a great gift to give truffles are even better. These are among the more expensive of the edible wedding favors. Truffles have an exquisite taste that everyone can enjoy. You can even have the couple's name engraved on the truffles or the box that they come in.

Hot cocoa is another beverage gift that can be given to your wedding party. This is a great edible favor for a winter style wedding. It will keep your guests warm with a keepsake box that has the happy couple's name and wedding date on it. Hershey's and M&M's have some great cocoa flavors for everyone to enjoy.

Edible wedding favors are a great way to thank you guests and give them something to nibble on. There is a variety of choices for you to give your guests. Just use tasty treats that you and you new husband enjoy and your guests will like them too.

The favors can be given in tins or gift boxes that your guests can keep once the edible goodies are gone. There are wrappers and other parts of the gifts that can be saved so that your guests will have a keepsake that shows your names and wedding date so that the memories are never forgotten.
More Articles by Amanda
«-- Return to Article Index