Home
»
Articles, Guides, and Tips
Posted by
Amanda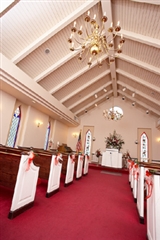 By using creative and beautiful decorations you can make your wedding a unique and memorable one; however, you don't need to spend thousands of dollars on decorations that will last only about 5 hours. Sure, you want everything to be perfect but as the old saying goes, sometimes less is more. Generally, the more money you're willing to spend on your décor, the less time you'll need to devote to making it. If you want to save, you can make everything yourself (with the help of your bridal party and friends, of course) - from tablecloths to centerpieces and favors. Cost will depend on your theme and the amount of time you spend on finding good deals. You can look for fabrics in your local department store and even in the clearance isle. While wedding fabrics are undeniably beautiful, don't forget that they are not the main focus of your affair.

Decide on a theme for your wedding, this will not only help you create a unique and memorable event but will also make the decorating process a little easier. Find a common element to incorporate throughout the day – this can be a detail that signifies something special to you (for example, a flower), a romantic shape like a heart or anything else you choose.

Select your wedding's primary colors. While you can always use the traditional white color as primary, there are many other choices available depending on your personal style and preferences. The complementary colors shouldn't be the same shades as your primary color, it's best if you use colors on the opposite side of the color wheel which will help the primary color stand out in a really stylish way.

Centerpieces shouldn't be too tall or wide as to obstruct the guests' view and make it impossible for a conversation to be carried around the table. The most elegant centerpieces are not all the same height; different heights can be used to create a presentation. Instead of cut flowers, you can use potted plants and give them as gifts afterwords or take them home. Also consider setting up different sizes and shapes of tables (circular, square, rectangular) and use different textures or designs for the fabrics. Use candlelight to create a romantic and intimate atmosphere.

One of the most popular wedding trends nowadays is the green wedding. Many couples are realizing that their special day is a wonderful opportunity to make a difference and show that they care. If that's something you want to do, consider using organic and locally-grown flowers, recycled paper for your invitations, local and organic foods at your reception, and biodegradable plates and forks. Having a wedding day that celebrates not only the love between you two but also your love for nature is a great way to make your affair truly special.
More Articles by Amanda
«-- Return to Article Index