Home
»
Articles, Guides, and Tips
Posted by
Amanda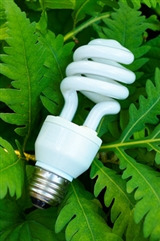 An Environmentally Friendly Wedding
With a cost of $25,000 per event on average, weddings have an enormous financial effect on the US economy and so is their ecological impact. Society is getting more and more conscious about preserving the environment, reusing products and saving resources. Having a green wedding will not only save you money but you'll also be making a difference. It's all about simplifying and reusing materials.

Location
An outdoor reception at a favorite natural spot is a great idea for a green wedding location. And by having the ceremony and reception at the same place you can avoid having your guests drive between the two which will save them time and fuel. Or choose a site that will benefit from the event like a museum, library or a historic house. Also ask your venue if they recycle their bottles and cans.

Guest list and invitations
The most apparent way to reduce your wedding's environmental impact is to keep the guest list short. If you think about it, more guests equal more fuel, more food and drinks containers, and more waste. Use recycled paper and soy-based inks for your invitations, a reply postcard (with no envelope) and forgo the inner envelopes-you'll save both paper and money. Another good idea is to create a website with all the information about your wedding like directions to the venue, hotels and other details to avoid printing it out for everyone.

Décor
Decorate your site with items you can reuse. Seasonal, local and organically grown flowers are becoming a common trend in bridal couples' decoration choices. Outdoor venues require minimal decorations thus saving you money. Use non-petroleum-based candles like soy candles; candlelight not only creates a romantic and intimate atmosphere but it's also energy efficient. Use potted plants instead of cut flowers for centerpieces. These can then be given as gifts or taken to your home after the wedding.

Food and dishes
Find a caterer who can provide you with vegetarian, seasonal and locally grown organic products. This kind of menu is becoming a common choice for brides and grooms not only for health reasons but it also helps stimulate local economy and reduce transportation emissions. Avoid using disposable plates, use real glasses, dishes, and cloth napkins – your caterer can supply you with all of those.

Wedding attire
Consider buying a dress made of organic cotton, organic silk and hemp blends. Other options include a vintage wedding dress from a resale store or from a family member – this can save you a considerable amount of money. Some brides choose to donate their dresses for resale by a charitable organization. Renting a tux or suit has always been a great option for the groom.

Having an eco-friendly wedding doesn't mean sacrificing style – nowadays, green weddings are a popular and responsible way to move beyond the traditional consumption and create a truly personal celebration to be remembered for years to come. It will also make you feel good about your efforts to reduce your impact on the environment.
More Articles by Amanda
«-- Return to Article Index